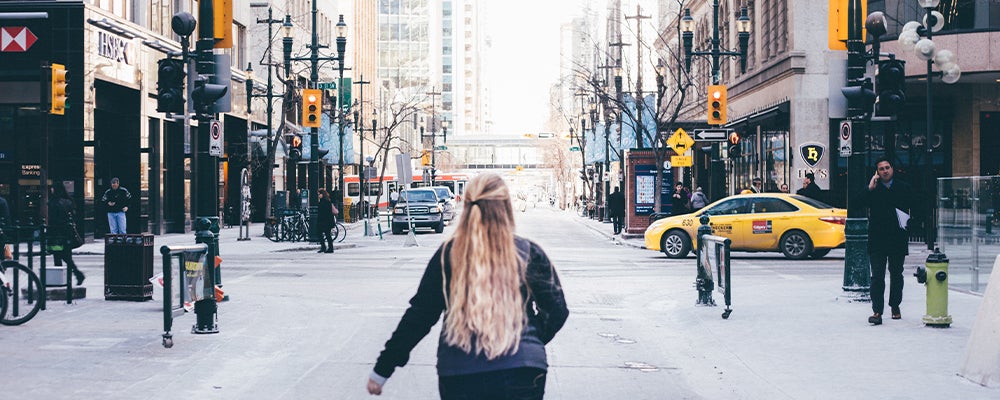 So you're looking at relocating, and Calgary has made your shortlist.
We know moving can be stressful as a lot of factors play into big decisions like these, so congrats on making it this far! If you're still working on your pros and cons list, we're here to help. We have worked together with countless people to find their perfect home in Calgary over the last couple of decades, and we take great pride in helping families settle down and find a compatible community for their lifestyle. Our team is filled with long-time (and some lifetime) Calgarians and is a wealth of knowledge when it comes to the city's perks, its real estate, and its communities. With that in mind, let us tell you about the top reasons we think you should move to Calgary.
MONEY
Compared to other major cities across Canada, housing is cheaper, gas is more affordable, and there's no extra provincial sales tax (PST). With less money going towards housing, transportation and goods/services, extracurricular activities such as weekend trips, holidays, sports, etc., are back on the table!
MLS COMPOSITE BENCHMARK HOME PRICE (Sept 2022)
Calgary: $527,400
Toronto: $1,104,000
Vancouver: $1,155,300
TOTAL SALES TAX
Alberta: 5%
British Columbia: 12%
Ontario: 13%
EMPLOYMENT
Calgary has a reputation for being solely an oil and gas economy, but we're steadily expanding into more sectors, including the service and tech sectors. According to
GeekWire
:
...Calgary is emerging as a globally recognized tech and innovation hub with the fastest tech workforce growth in North America, according to 2022 LinkedIn Talent Insights. Job seekers can see career opportunities compounding as tech talent and total tech jobs in Calgary have grown by 22 per cent in the past five years. This momentum, notes research by CBRE, ranks Calgary in the Top 50 North American Markets for Tech Talent. With tech growth across numerous sectors including interactive digital media, enterprise technology, energy, agriculture, film and television, aerospace, health and life sciences the city has opportunities for all."
Tech giant, Infosys, just announced in September 2022 their plan to set up shop in Calgary and bring 1,000 jobs here. When asked
why they chose Calgary
, they replied:
We chose to open in Calgary because it is a center of tech excellence with rich IT talent and a strategic location that enables us to scale work with clients across key industries, such as energy, natural resources and agriculture. Calgary's IT innovation potential is unlimited, and we are delighted to be a part of its future."
Calgary is also noted to have the highest tech sector head office concentration per capita in Canada, and it's not slowing down any time soon.
No matter which way you look at it, Calgary offers a dramatically shorter commute to the office than in other big cities. If you're in the Greater Toronto Area, your commute could easily be 60 minutes each way, while in Calgary, this could drop down to 20 minutes in each direction. Most people can live within 15-30 minutes of their place of work without breaking the bank. Office centres are also now spreading outside of downtown to places like Quarry Park, meaning you can work very close to home, even from the suburbs. And as we all know, remote work is continuing to become "the norm", so there's potential to be able to live anywhere in the city regardless of your field.
SUNSHINE & WEATHER
Calgary ranks #1 for the sunniest city in Canada! According to WorldAtlas.com, we see 333 sunny days and 2,396 hours of sunshine every year. Unlike most of Canada, Calgary enjoys regular breaks from the cold Winter months thanks to the amazing phenomenon called a
Chinook
, where warm air comes over the mountains and brings with it sudden and significant warming of temperatures. Calgary sees about 30-35 Chinook days a year, where temperatures can warm anywhere from 13-25 degrees, sometimes in a matter of minutes! Canadian Winters can often feel very loooooong when it is cold and everyone is cooped up indoors, but when you live in Calgary, you get regular reprieves from the frigid temperatures. It is much easier to get outside when it is +10 and sunny in December! This reason alone should be at the top of the pros list for reasons to live here.
PROXIMITY TO THE MOUNTAINS
Who doesn't love the Rocky Mountains? They're majestic and breathtaking, truly a sight that can lift one's spirits after spending time in the city. Whether you prefer to look at them as you drive by, climb to the top of every peak possible, or somewhere in between, there's something for everyone to enjoy. Skiing/snowboarding, mountain biking, hiking, rock climbing, and even horseback riding are all within a 90-minute drive of Calgary! Everyone can use an escape from the "concrete jungle" once in a while (or every weekend), and getting outside to explore nature in
Kananaskis
or shopping in
Banff
 or
Canmor
e
is the perfect remedy. 
GREAT PARKS & PATHWAYS
Speaking of getting outside, Calgary has tons of local parks to explore. Our top recommendations include
Fish Creek Park
,
Edworthy Park
,
Sandy Beach
,
Bowness Park
,
Nose Hill Park
,
North Glenmore Park
, and
South Glenmore Park
. These are great for cycling, walking/running, skating, and more. Plus, city-run recreational facilities abound - bringing fitness, swimming, and more within easy reach. The city even has a great network of bike paths throughout, including downtown, and the river pathway systems are out of this world on the beauty scale. 
To bring the point home, here are some fun stats about our parks:
According to the
Canadian City Parks Report 2022
:
- 56% of Calgary's parkland is natural area
- There are 6.7 hectares of parkland and green space per 1k people (that's a lot!)
- 10% of the total city land is parkland
- We have 159 dog parks (dog lovers rejoice!)
- You can choose from 1,137 playgrounds
- ...and last but not least, there are 59 community gardens/urban farms  
VIBRANT INNER CITY
Get excited, Urbanites! Calgary has a fantastic inner city, and it's continuously expanding and improving with a lot of redevelopment and new infills popping up. Our inner city is trendy, active, locally focused, and community-based, and whether you choose to live here or venture from the suburbs to explore on the weekends, there's always something to do and local businesses to support. The restaurant scene is burgeoning, and the foodie scene is strong. In fact, Calgary restaurants were featured heavily on
Canada's 100 Best Restaurants List
, with
River Cafe
, a local favourite, making the top 10! There are local and often sustainable coffee shops on almost every corner, trendy cafes offer locally sourced eats, and endless local shops carry unique goods by local artists and makers. This vibrant scene can be found throughout downtown, and it branches out to inner city communities, like Kensington, Bridgeland, East Village, and Marda Loop, among many others. 
FAMILY RECREATION
Calgary offers a lot of great family attractions and activities within city limits. Local favourites include the
Calgary Zoo
,
Telus Spark Science Center
,
Heritage Park
,
Winsport/Calgary Olympic Park
, and
Calaway Park
. There are a lot of indoor play centres if the weather isn't great, but when the weather IS great, it's easy to find an outdoor pool or splash park to enjoy. In the warmer season, it's fun to check out local farms like
Saskatoon Farm
,
Granary Road
, and
Cobbs Adventure Park
. In the colder season, lace up your ice skates to skate local ponds and lakes or gear up for sledding at a nearby hill. When you need to mix it up and are willing to take a little road trip, Drumheller is also a great family adventure to visit the
Royal Tyrell Museum
and walk among the dinosaurs for a day.
GREAT OPPORTUNITY TO MEET NEW PEOPLE 
You're not the only one considering a move to Calgary! Call us biased, but Calgary is pretty great, and the migration numbers tell us we aren't the only ones who think so. In fact, in the second quarter of 2022 alone, Alberta saw a net increase of 34,883 people to its population, many of which came to Calgary.
Calgary is a young city with lots of energy, and it's never been easier to find a new "crew." As of the publishing of this article, Calgary's population sits just above
1.6 million
, and its projected growth means there will always be new people to meet and new opportunities to grow your community. 
CALGARIANS ARE FRIENDLY!
We're used to new people coming, so we're basically pros at making friends, and we wouldn't have it any other way! You'll always find smiling faces and people offering and willing to help you out. Calgary offers a warming sense of community, and although it sounds cliche, it's because we firmly believe we're better together. 
Good ol' Cowtown has quite a friendly reputation, and according to a recent poll, it was voted one of the friendliest places in Canada. A CTV News
article
states:
Locals are quite keen to share the city highlights," the website reads. "It's common for a stranger to help you unstick your car from the snow or carry your groceries."

---
Overall, Calgary is a fantastic city to live in, not to mention, it was voted
"World's Third Most Livable City"
in 2022! It's safe to say we agree! Read our blog about this
here
. 
If you're considering a move, we look forward to welcoming you to our city soon. Please reach out to us with all our real estate questions, and it will be our pleasure to help you find what you're looking for and answer all your questions about relocation. For more information, check out our
Relocation Services
page!