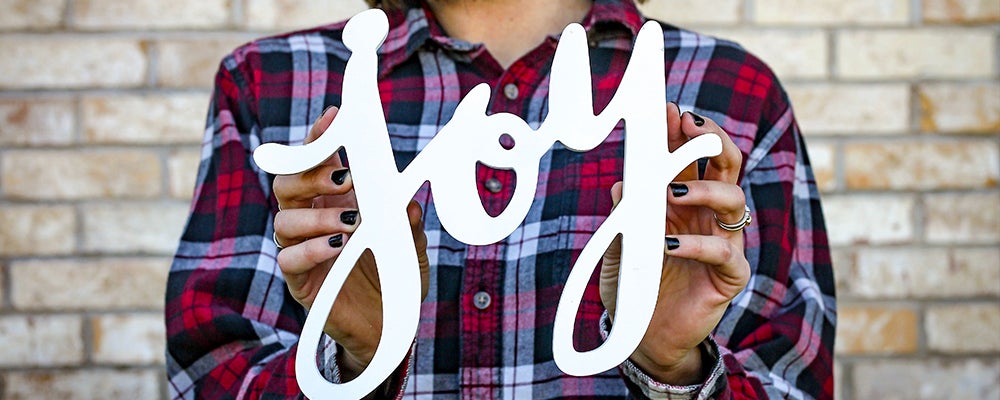 With the holiday season quickly approaching alongside the ongoing societal considerations and changes, one thing we can all benefit from is a healthy dose of cheer!
 If we all took the time to spread some compassion and kindness, we could make this holiday season one to remember for all the right reasons! The small things do matter and make a difference, especially in isolating times like these. This article will cover six different things you can do to help elevate your community's spirit and create a cheerful home at the same time!
GIVE A GIFT BASKET/CARE PACKAGE
Spending time at home has become the norm, and while avoiding outings can do wonders for the wallet, it also can increase feelings of loneliness and depression. By putting together a care package for a loved one, a neighbour, or a friend struggling or in need of a pick-me-up, you will remind them they have support and are cared about despite the distance. It's also a great project to bring members of your home together for a shared goal - what's more cheerful than that??
Take some time to think about what this person may need, what they like and enjoy, and everyday supplies while putting your package together. The basket can be as casual or as customized as you want! Consider including a personal letter as well, as letters and physical notes tend to be cherished.
SHOP LOCAL
While this message has been spread widely over the last couple of years, it is still an important point that can make a huge difference. Since the pandemic's beginning, small businesses are consistently hit the hardest, many having to permanently close or seek assistance from the government to stay afloat. With holidays around the corner, the next few weeks are arguably the busiest shopping time of the year, making it the perfect opportunity to make a difference in your community!

Depending on where you live, there may be a list of local businesses or support local hashtags tailored to your area. By taking a few extra minutes to do your research and go out of your way to shop locally, you will help elevate both social and economic sustainability in your city. 
This point is three-fold. Shopping at local stores and vendors brings joy to the business owner, it brings you joy for having helped someone provide for their family, and it brings joy to the recipient of the item purchased (should you choose to part ways with the goodies you find). Giving is always better than receiving and nothing creates a more cheerful home than generosity.
SHOVEL A SIDEWALK OR DRIVEWAY
The happiest homeowner is one with a close-knit, friendly neighbourhood/community that lends a helping hand to one another. And as winter begins to bring in the cold and snow settles over our cities, tackling clearing the pavement becomes everyone's least favourite chore. As many people are socially distancing, offering to help shovel and clear the snow for loved ones or neighbours can provide peace of mind and give the gift of relaxation.


As a reminder, in some cities, including Calgary, you are generally required by law to clear snow from sidewalks within 24 hours of the snow stopping – even more reason to help someone in need and lighten their load! Snow removal often falls onto the property owner, but renters usually take responsibility as part of the leasing agreement.


DONATE TO A CHARITY OR CAUSE
If you have the financial means, another generous gesture that creates a cheerful home is donating to a charity or cause important to you or your community. Current times have made things a lot harder than usual for a large percentage of people making non-profit services and other programs more valuable than ever. Inquire with local charities in your city if they need specific supplies vs. monetary help to increase the impact of your donation.

Here at Urban Upgrade & NewInfills, we are continuing the annual tradition of hosting a food drive for the Calgary Food Bank! For every $1 you donate, the Food Bank can donate $5 of food to someone in need, so your money goes 5x further. Remember, it's not about the amount; it's about the heart behind the donation.




If you are interested in checking out our campaign, please 

click here

 for more information and to donate!
IMPLEMENT SELF CARE
This next point is perhaps one of the most significant ones on this list, and it often gets missed. Ensuring you are exercising a healthy level of self-care benefits not only your own life but everyone else's, too. If each of us took the time to slow down and return to equilibrium, one of the side effects would be a more cheerful home because happy people live there! A happy and cheerful home resonates throughout our society and contributes to how we all act and treat one another. Cultivating compassion, kindness, empathy, and positivity all start from within.

One tip is to make a list of things you enjoy doing that relaxes you (within reason), such as reading a good book, taking a long bath, tinkering in the garage, or binge-watching your favourite TV show. Schedule a time for these things, and make sure you do them – think of it as hitting your recharge button! And lastly, encourage your friends and family to do the same!

DECORATE FOR THE SEASON
Who doesn't love twinkling lights, the smell of evergreen, candy canes, and that vintage nutcracker your grandmother gave you? (All grinches need not reply) We all know times have been hard the last couple of years, so why not counteract it by bringing cheer to your home through decor? 
If you don't have the motivation or the means to shop for new decor, use what you have on hand and make the best of it. Grab those red pillows out of storage, go 
cut down your own tree
 FOR FREE, light some candles, and put on some Christmas music. Where there's a will, there's a way! The important thing is to bring cheer to your home. And for those of you who have a whole storage room of holiday decor, you know what to do! 
IN CONCLUSION
While we know didn't reinvent the wheel with this list, we wanted to take time to remind all our readers (and ourselves) of the importance of having a cheerful home this time of year. We're spending more time at home these days, and it's vital we create a home we enjoy living in. If you loved this list, please share it! We'd also love it if you 
tagged us on IG
 if you implemented any of these steps in your life - let us know! As always, we'd love to hear from you. 
Happy holidays!