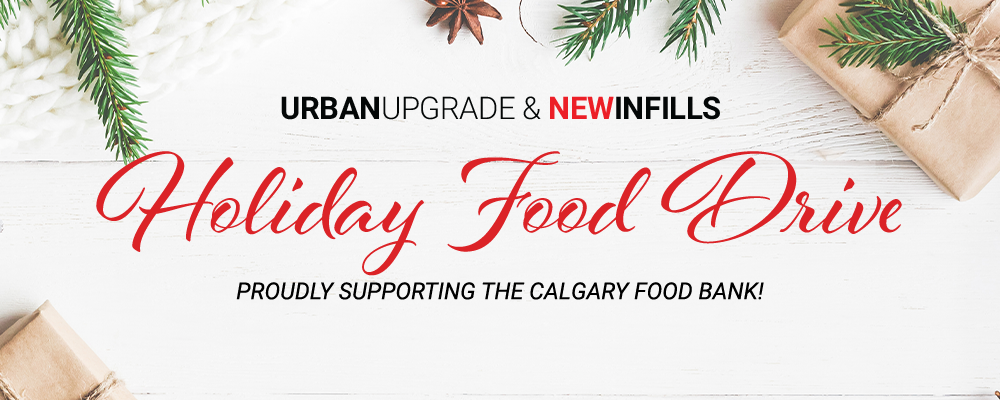 At Urban Upgrade & NewInfills, giving back to the community is important to us. 
We are now in our 7th year of supporting a local cause during the holidays and have once again chosen to host a food drive for the Calgary Food Bank. The holidays can be a tough time of year for many Calgarians, and with the cost of food rising rapidly in recent years, many Calgarians are finding it harder and harder to put food on the table.
You can help us make a difference to Calgarians in need this holiday season by supporting this worthy cause.
DONATE HERE
DID YOU KNOW?
Your cash donations are extremely powerful.
The
Calgary Food Bank
can distribute $5 worth of food for every $1 donated. This, coupled with tax receipts for all donations over $10, makes for a great reason to donate cash in lieu of non-perishables!
With your support, we can ensure that no Calgarian goes hungry this year. Together, we can make everyone's Holiday Season a little bit brighter!
A CHANCE TO WIN!
As a special thank you to everyone who participates, all donors will be entered into a draw to win a fantastic "SHOP LOCAL" gift basket full of unique local gifts and products.
For food donations, stop by our Urban Upgrade & NewInfills office through
Friday, December 9th.
#101, 320 23 Ave SW
Calgary, AB T2S 0J2
The Calgary Food Bank has a Holiday Wish List for 2022!
Cereal
Pasta
Peanut Butter
Canned Vegetables
Canned Chicken or Turkey
Nut-Free Granola Bars
Baby Food Pouches
We have genuinely enjoyed giving back to our community for 7 years now, so let's take a glimpse into the past and all we have accomplished together.





Thank you to everyone who has supported us over the years - we look forward to more years to come!