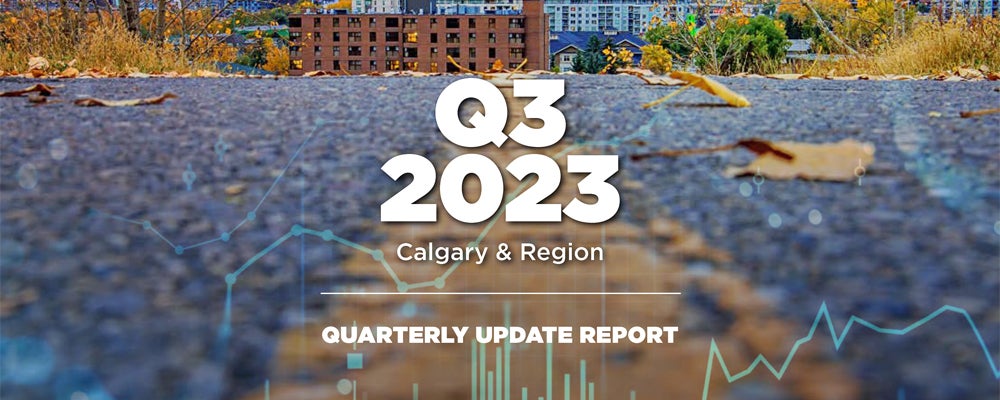 City of Calgary, Nov. 17, 2023
- The Calgary Real Estate Board (CREB®) has released its Q3 2023 housing market report, providing a comprehensive overview of the real estate landscape in the City of Calgary and surrounding areas. The report showcases trends in sales and pricing, offering valuable insights for industry professionals and prospective homebuyers and sellers.
"Sales activity in the Calgary market has followed expectations, with declines earlier in the year offsetting gains in the second half," said CREB® Chief Economist Ann-Marie Lurie. "Thanks to persistent supply challenges, the market has favoured sellers, resulting in stronger-than-expected price growth. As we move into 2024, we expect to see better supply-demand balances, but given the strong migration levels over the past two years, supply adjustments will take time supporting further price gains."
Higher interest rates and inflation levels are expected to weigh on consumer spending and business investment, slowing economic growth in 2024. However, thanks to higher commodity prices and migration levels, economic activity in Alberta is expected to outpace national growth levels.
Supply challenges impacted both sales and prices in the Calgary market last year. As we move into 2024, a rise in new listings and an improved number of starts are projected to offer more supply choices; this, along with population gains and a stable employment market, is expected to support stronger sales this year. And as we shift toward more balanced conditions, the pace of price growth is expected to slow from the high levels reported in 2023.
While both sales and prices are expected to rise in 2024, there is considerable risk to the outlook. Shifts in global growth could impact commodity prices and, ultimately, our economic growth, employment, and migration. Migration and employment shifts will influence the path to housing market balance and the rate of price growth experienced in our city.
Economic Update
Inflation remains higher than target levels, but the Bank of Canada maintained target interest rates in October as the Canadian economy shows signs of weakening. While economic conditions are expected to slow due to pullbacks from consumer and business investment, Alberta is expected to fare better than other provinces thanks to the energy sector and strong international and interprovincial migration inflows.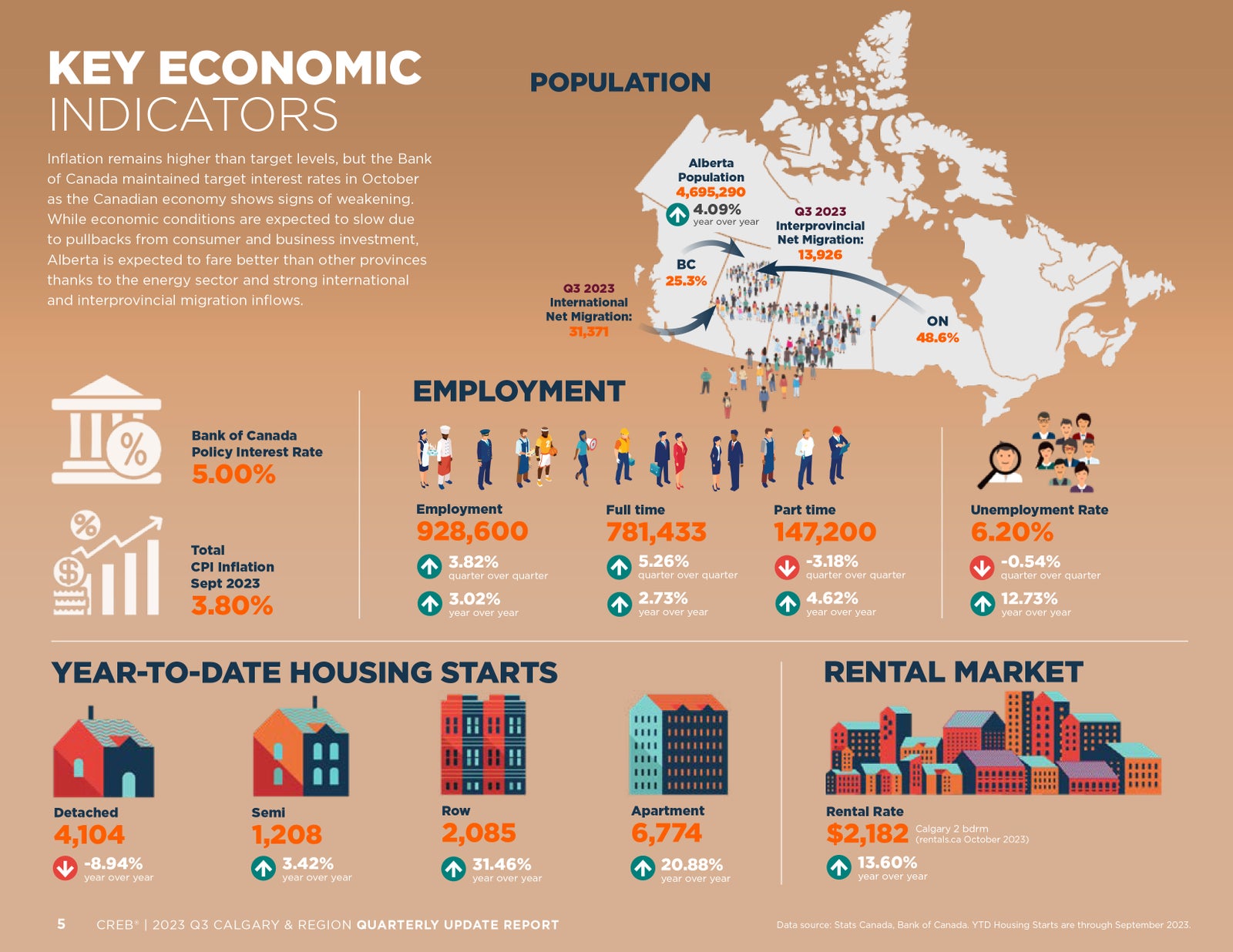 ---
Housing Market
Following several consecutive quarters with slower sales, a boost in sales for homes priced over $500,000 offset declines reported in lower price ranges. Lack of choice for lower-priced detached homes has prevented stronger sales for detached properties. While many markets are seeing a pullback in demand in the upper price ranges due to the higher lending rates, Calgary continues to see gains in the upper ranges thanks to better supply options and strong interprovincial migration from Ontario. With a benchmark price averaging under $700,000 in the third quarter, Calgary still seems relatively affordable compared to Canada's largest cities.
Tight housing market conditions have driven up prices, three percent higher than in the second quarter and nearly 10 percent higher than last year's third quarter. Prices have trended up over the last quarter in every district. Year-to-date detached price growth has ranged from four percent in the City Centre to nearly 14 percent in the East district. The largest gains have occurred in the most affordable districts of the North East and East.

Source: CREB®


Semi-Detached
Both sales and new listings rose over levels reported in the third quarter of last year. With 598 sales and 760 new listings, we also saw the sales-to-new listings ratio ease from 88 percent in the second quarter to 79 percent in the third. While conditions are not as tight as last quarter, the shift did little to improve inventory levels, amongst the lowest ever reported in the third quarter.
With just over one month of supply, the semi-detached sector continues to favour the seller, contributing to further price growth. In the third quarter, the unadjusted benchmark price rose by three percent compared to last quarter and was over nine percent higher than prices reported last year at this time. Like the detached sector, prices have risen across every district, with the most significant gains occurring in the most affordable districts of the North East and East.


Row/Townhome
New listings in the third quarter improved over last year, but the shift in new listings also supported strong growth in sales activity. The 1,447 new listings were met with 1,318 sales, causing the sales-to-new listings ratio to push up to 91 percent. Tight conditions caused further declines in inventory levels, averaging some of the lowest third-quarter levels since 2006. Higher lending rates are declining supply for lower-priced detached and semi-detached properties, which has caused many consumers to shift to row/townhouse-style properties. 
The strong demand relative to inventory levels has caused further tightening in this market, with months of supply averaging below one month for this quarter and last quarter. The strong seller's market conditions have caused relatively steep price gains. In the third quarter, the benchmark price rose by nearly six percent over the previous quarter and is almost 16 percent higher than the third quarter of last year. Year-over-year price growth has ranged from a low of 12 percent in the North West and City Centre to a high of 29 percent in the East district.

Apartment
Apartment condominium sales continued to surge in the third quarter, reaching a record high and contributing to the year-to-date gain of 25 percent. The growth in third-quarter sales was only possible thanks to the strong growth in new listings; however, with a sales-to-new-listings ratio of 86 percent, inventory levels eased for apartment condominiums as well. Supply levels are not at record lows, but the recent surge in demand has caused the months of supply to remain just over one month.
The exceptionally tight conditions have continued to place upward pressure on home prices, which reported a quarterly gain of over three percent and a year-over-year increase of 14 percent. While price growth has been significant so far this year, it is important to remember that prices only recovered from the 2014 highs in June of this year and are still just slightly below their peak in the City Centre. The City Centre has seen the slowest price growth, with a quarterly gain of one percent and a year-over-year increase of over nine percent.