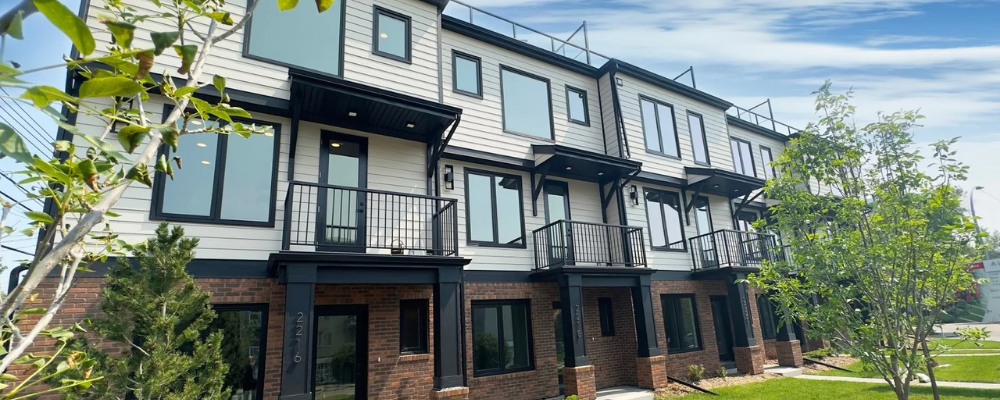 We've talked a lot about Calgary's housing crisis this year, and we're starting to see more and more ramifications as 2023 is winding down.
 The latest shake-up relates to the decline of demand for single-family homes and the increase of demand in townhomes and multi-units. Row house construction is up 37% in Calgary as builders and buyers alike seek more affordable options, and new starts of single-family homes is down 13% as 'demand has been shifted over to the multi-unit side.' This is a result of construction costs, interest rates, and purchase prices all rising simultaneously in the city.
We've seen a bit of a shift away in demand, at least temporarily, from the more expensive single-detached homes," said Taylor Pardy, a market analyst with the Canada Mortgage and Housing Corporation (CMHC). 

"As a result, more demand has been shifted over to the multi-unit side."
On October 5, 2023, the CMHC released its latest report on housing starts, which showed construction of single-family homes in Calgary and the surrounding area was down 13% in the first half of 2023, while construction of row houses was was up 37%, compared to the same period last year.
Overall, the number of new units under construction is about the same as last year.
The level of housing starts held steady in Calgary mainly because gains in row starts offset weakness in other categories," the report reads.

Apartment construction accounted for the largest chunk of new homes being built, with 3,506 units out of the total of 8,106 housing starts in the first half of the year. That's about the same as last year.
The CMHC noted more than half of those units are purpose-built rental apartments, which is the first time Calgary has seen a majority of apartment-style units being built for rent rather than for purchase.
This is encouraging news for purpose-built rental supply and affordability in Calgary," the report says.


Construction costs put brakes on building
The report also noted that increased construction costs remain a "major challenge" when it comes to building more homes.
According to market intelligence gathered by CMHC, some developers are now having more difficulty financing existing projects because of higher construction costs and interest rates," the report reads.
The cost of building is up in all major cities, according to data from Statistics Canada, and Calgary's increase has been second only to Toronto's. 
It costs about 77% more to build a home in Calgary today than it did in 2017.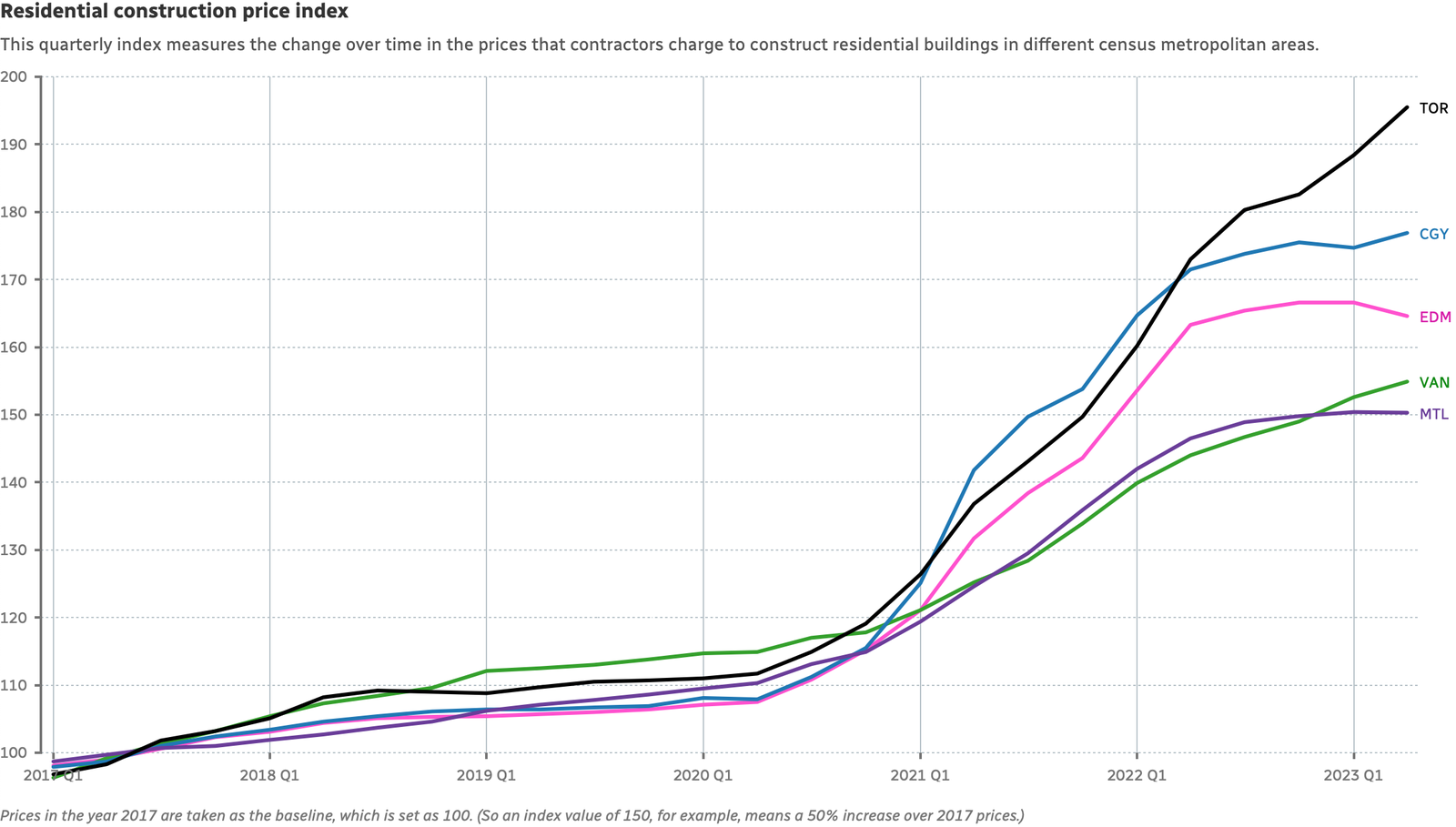 Source: Statistics Canada Table 18-10-0276-01 (Chart: Robson Fletcher/CBC)
The cost of building grew rapidly during the pandemic and, while the rate of increase has slowed in Calgary, it remains far more expensive to build now than it was just a few years ago.
This escalation largely reflected strong demand for new housing and renovations during the COVID-19 pandemic, which drove up demand (and prices) for labour and materials," the CMHC report reads. "It also reflected supply chain disruptions caused by the pandemic."
When it comes to residential construction in Calgary, the cost of wood, plastics and composites has seen the largest increase — nearly quadrupling from 2017.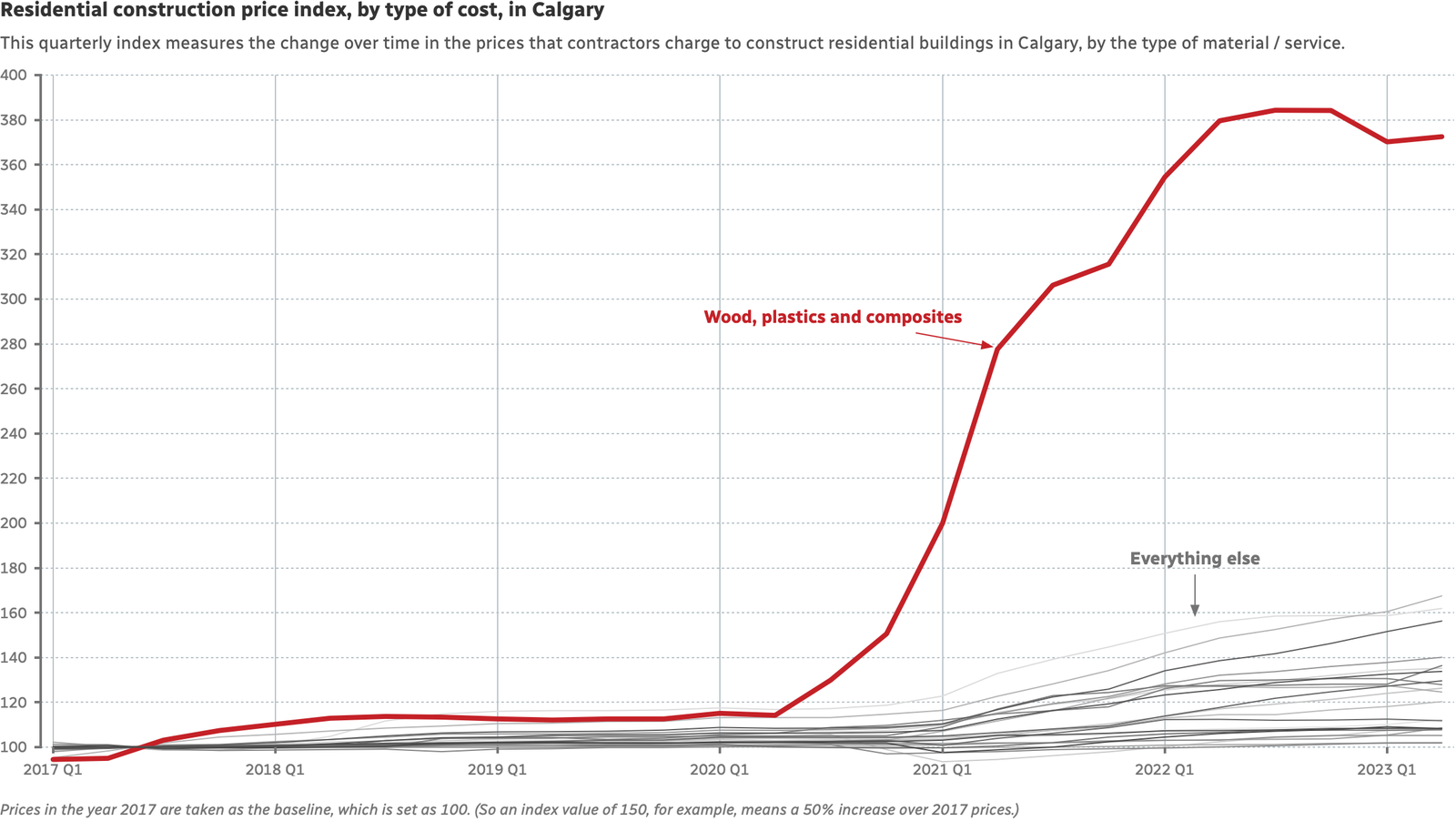 Source: Statistics Canada Table 18-10-0276-01 (Chart: Robson Fletcher/CBC)
The demand for multi-family housing was also seen in the latest market report from the Calgary Real Estate Board (CREB). While benchmark prices were up across the board in September, prices for row houses grew the fastest — up 17.2%, year over year, to $419,400.
Price gains [for row houses] have occurred across all districts, with the most significant gains occurring in the most affordable districts in the city," the CREB report reads.
Apartment-style condos, meanwhile, increased 14.9% to $312,800.
Higher lending rates and tight rental market conditions have kept demand for apartment-style products strong," the real estate board noted.
Semi-detached houses, meanwhile, were up 11% to $621,300 and single-detached houses increased 11.1% to $696,100.
---