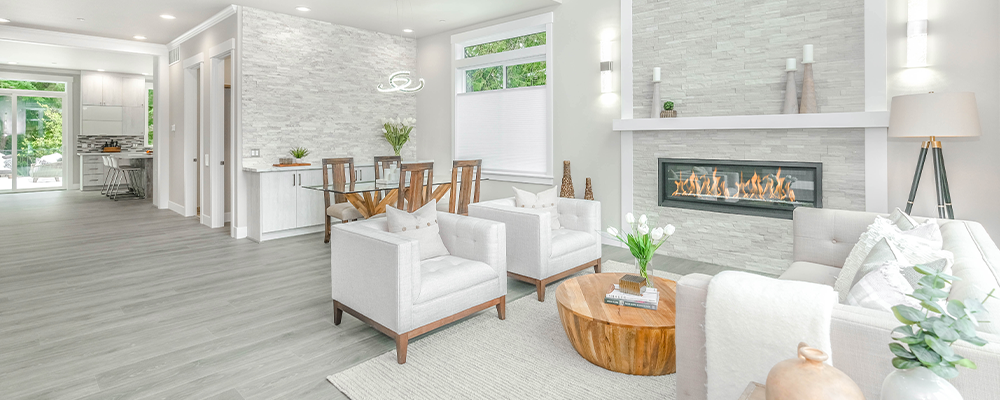 Are you preparing to sell your home?
Regardless of the current real estate market climate, it's always a good idea to stage your home for listing purposes. According to home staging expert Alyssa Tavazoie of Alyssa Interiors in Toronto, if you want your house to look like it's worth every penny of the (substantial) sum you're asking, putting your home's best foot forward - and then some - is a must.
These tried-and-true home staging tips by Alyssa Interiors will help your house look appealing and welcoming to potential homebuyers:
1. Depersonalize.
Potential homebuyers need to picture themselves in your rooms and imagine their own furniture and décor in your space. Quirky decorating or pictures of your family, kids, and even pets hurt the illusion. Remove all family photos and, if necessary, paint brightly coloured walls a more neutral shade.

2. Make sure everything in the house is in top condition.
No one wants to see torn screens, scuffed walls, cracked plaster, or burnt-out pot lights. You may have gotten used to seeing these defects and become blind to them, so tour your house with a critical eye (or ask someone else to) and repair anything that needs it.
3. Chandeliers.
One of Tavazoie's favourite low-cost, high-return investments is chandeliers. "People think you have to spend a fortune on lighting, but you can go to any big box store and get beautiful ones for, at most, a few hundred dollars," she says. "Many houses don't have enough lighting to begin with, so if you're having the electrician in anyway, have more overhead fixtures installed -- or at least buy some great lamps." 
Urban Upgrade tip:
We suggest checking out IKEA and Amazon for amazing deals on lighting!

4. Be aware of the scale of the house when it comes to furnishings.
You might have a giant sofa that you love, but if it makes the room look small, it must go. Aim for small furniture groupings (ideally more than one in a room, especially a large one) with plenty of space around them.
5. A clean kitchen.
Kitchen counters should be clear and clutter-free. A single bowl or vase holding cooking utensils is okay, but that's about it. Store small appliances in cupboards if you must.
Urban Upgrade tip:
When you think it's clean enough, look closer! Do your cabinets have smudges and splatters? When was the last time you cleaned your hood fan? Little things like this can show up in specific lighting and photographs, which could give a potential buyer a less than a 10/10 impression.

6. Kitchen decor.
If your kitchen doesn't have a backsplash, this is a weekend job that a reasonably handy person can tackle for little money. Invest in gorgeous tiles (since you're doing such a small area, it shouldn't cost too much) or consider glass mosaics, mirror tile, or plain tile interspersed with a few fancy ones.
7. Replace boring or worn cabinet pulls with high-design new ones.
Consider brushed steel, which looks great with stainless steel appliances, or decorative ceramic.
Urban Upgrade tip:
Black hardware is also very trendy right now, and you can order in bulk on Amazon. Here's an idea:
30 Pack 5" Cabinet Pulls in Matte Black
8. Fresh linens.
Make sure any visible linens (tea towels, chair cushions, oven mitts, etc.) are brand new or at least look brand new.

9. Spotless house.
 If it's in the budget, hire a professional cleaning company to get at all the little nooks and crannies, down to the last detail. This will save you a TON of time and yield a great reward!
10. Fix up the bathroom.
In the bathroom, an ugly builder's mirror can be replaced with a pretty framed mirror for under $100. For a little more, you can buy an antique or higher-end model from a housewares boutique. Switch out the lighting for a lovely chandelier or some attractive new sconces, and the bathroom will look as if it's been renovated.

11. Get a hotel-chic look.
Replace bathroom towel bars with well-designed ones from a designer bath boutique. You can get matching ensembles that include toilet tissue holders, wastebaskets, trays, etc. Aim for the chic hotel look: Crisp white towels neatly stacked in a towel holder, small trays on the vanity holding attractive toiletries or soaps (wrapped or unused) and scented candles.
12. Keep clutter to a minimum.
Clear nightstands, table tops, side tables, desks, and floors of any and all non-decorative items, such as Kleenex boxes, lotion bottles, charging cables, etc.

13. Fix up the master bedroom.
Continue the luxury hotel look in the master bedroom: Multiple new pillows with shams or toss pillows in front, crisp white linens, and a throw at the end of the bed. Keep end tables uncluttered, with matching lamps and nothing else except, perhaps, a tiny vase of flowers.
14. The exterior of your home should look as polished as the interior.
This means neatly trimmed bushes, mulched flowerbeds, and fresh seasonal arrangements in urns by the front door.

15. A great smell makes a house memorable.
Baking cookies has become a cliche, but buy a room spray with a mild fragrance you love and spray the house sparingly before each showing.
Home staging can be easy and inexpensive, especially if you focus on the small details. Then, just stand back and let your house shine, and it is sure to impress potential homebuyers.