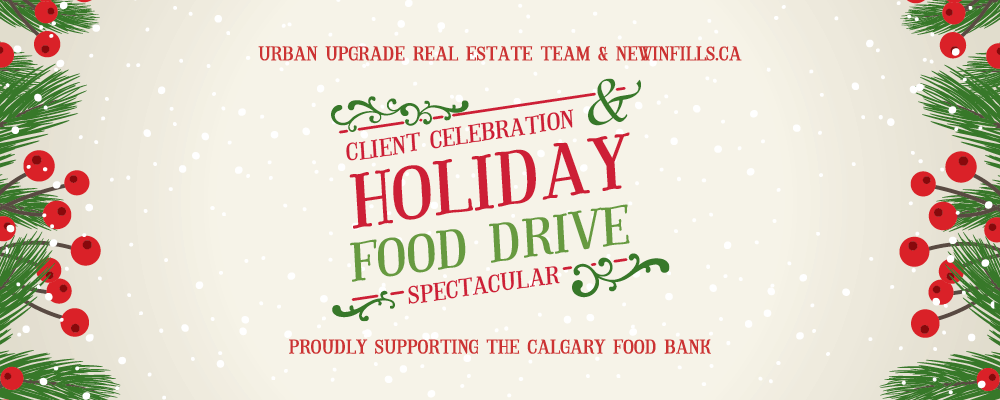 With the Holidays fast approaching, we at the Urban Upgrade Real Estate Team and NewInfills.ca have our sights set on celebrating the season and giving back to our community.
We would be delighted if you could join us for our annual client holiday party to get festive and celebrate a wonderful year! We will serve tasty seasonal goodies, festive cocktails, and of course, a great time! There will be cookie decorating (and eating) for the young and the young at heart, as well as a VISIT FROM SANTA with free professional photographs from 2:30–4:30 pm! You won't want to miss it!
While we are at it, we will be channelling our holiday spirit in an effort to do good for our community. This year we have chosen to support the
Calgary Food Bank
because we understand that the holidays tend to be an especially trying time for those in need.
In 2016, we held our first food drive for the Calgary Food Bank, and thanks to your INCREDIBLE support, we sent five cars FULL of food and nearly $5,000 in cash donations to the Bank. This year, we have our sights set even higher! Together, we can make a difference and play a part in making someone else's holiday season extra bright!
---
CAN'T MAKE THE EVENT BUT STILL WANT TO DONATE?
This year, we have a few options for you to participate if you can't make the event on December 1:
STOP BY OUR OFFICE
We happily accept donations at our office Monday-Friday, 9 am-5 pm, until the day of our event! You can find us at 4034 16 Street SW (look for the RE/MAX sign!)
TRACK DOWN ONE OF OUR REALTORS
Can't make it to drop off your donation? We get it. Call us, text us, email us, and wave us down! We will happily accept your donations. Our trunks have been emptied, and we look forward to hearing from you again!
MAKE A CASH DONATION ON OUR ONLINE PAGE
This year we are also accepting cash donations online at the link below. All monetary donations over $10.00 will be eligible for a tax receipt distributed by the Calgary Food Bank within a few weeks of your donation.
DONATE HERE
WHAT TO DONATE:
What do you enjoy eating at this time of year? Please consider healthy, tasty, non-perishable contributions – nobody wants to see donations spoil before somebody can enjoy them.
We also ask that you please be conscious of packaging – Although the Calgary Food Bank accepts donations in glass containers, these items pose certain risks, and we try to stay away from them to avoid any accidents.
According to the food bank, the most in-demand items are:
• pull-tab canned soup
• peanut butter & other nut spreads
• canned fruit & vegetables
• canned tomatoes and tomato sauce
• pasta and rice
• canned fish, meat, and protein
• diapers
• baby food and formula
• GLUTEN-FREE ITEMS like pancake mix & pasta
DID YOU KNOW:
Your cash donations are EXTREMELY powerful!! For every $1 donated, the Food Bank can purchase and distribute up to $5 in food and goods. We will accept cash (in envelopes) or cheques made out to "Calgary Food Bank." Monetary donations will receive tax receipts a few weeks after receipt by the Food Bank.
Thank you in advance for supporting this event! We look forward to catching up and doing some good for our community!
WE'RE MATCHING ALL MONETARY DONATIONS!
TRUE HOLIDAY MAGIC!! Watch your cash donation multiply by 10! (Yes, we said 10!)
It's no surprise that we are collecting non-perishables and monetary donations for the Calgary Food Bank this holiday season, but now
UrbanUpgrade.ca
and
NewInfills.ca
will be matching ALL monetary donations dollar for dollar, making your cash donations even MORE POWERFUL! This means your $10 gift instantly multiplies to $20, which could multiply up to $100 with the Food Bank's buying power.
Click the link below to donate to our online page and be a part of the magic. A little bit goes a long way!
We look forward to seeing everyone on December 1 to celebrate with lots of Holiday fun, food, and drinks!
DONATE HERE
DONATE TO WIN!!!
FRONT ROW HOCKEY TICKETS are up for grabs! Not only are we MATCHING monetary donations at our food drive, but we will also be drawing names and giving away a pair of hockey tickets to the lucky winner. Our front-row seats pretty much guarantee camera time. Ask anyone who has seen Thomas and Frances on TV in years past! Let's band together for those in need and get some money raised for the food bank! Non-perishables can be dropped at our office at RE/MAX House (just let our girls know you have donated so we know to get you on the donor list), and online donations can be made at Canada Helps.
It's a tough economy out there. Every little bit helps, and anyone with a donation over $10 will be issued a tax receipt!