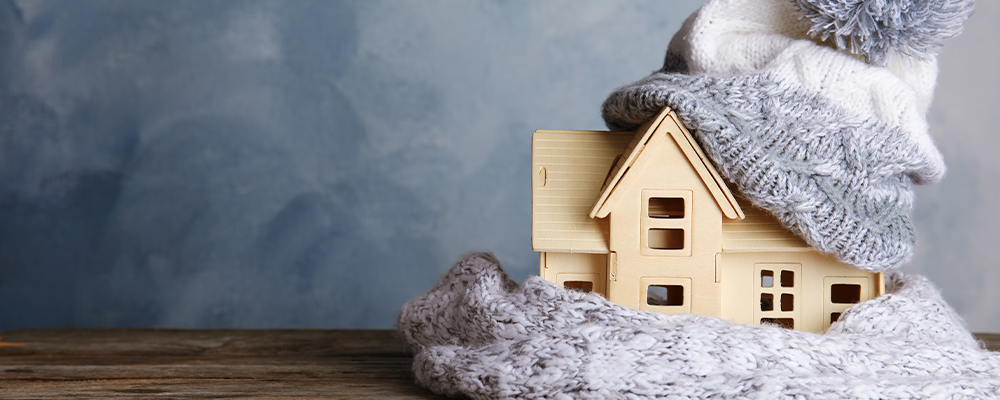 We absolutely LOVED the 2022 Autumn season – blissfully warm days, more time spent outdoors, and the rare chance to prepare for Winter gradually rather than diving in headfirst as usual.
But now that time has passed, the recent snowfall was a great reminder that there are several things to take care of when the snowy weather hits. As temperatures continue to decline, follow these tips to prepare your home for the upcoming season.
Check Your Furnace –
The pros recommend servicing your furnace and cleaning your ducts every two years. If you've never done this, this is a great year to start! Otherwise, maintaining the filters throughout the year will suffice. This should already be a monthly task but checking your furnace filter during Winter is an essential part of seasonal home upkeep. Properly maintaining your furnace will reduce energy consumption while it is working hard through the Winter. If you find that it's dirty, make sure to replace it.
Tip: Each time you replace a filter, write the date on the new filter so the next time you check it, you know exactly how long it's been since you changed it last!
Check the Humidity in Your Home -
Humidity levels need to be adjusted seasonally. Keeping the humidity levels in your home in check will prevent damage, such as warping hardwood floors if it is too dry and damaging windowsills from excess condensation, which can occur if humidity is too high. You'll want to ensure you've moved the dial on your humidifier from Summer to Winter and ensure the humidifier filter is clean. If your home has an HRV (heat recovery and ventilation) system, clean this per the manufacturer's instructions on the unit itself.
Program Your Thermostat -
Consider lowering the temperature when you're not at home. Programming your thermostat at night and after you leave for work can save you up to 10 percent on your heating bill. If you don't already have a programmable thermostat in your home, consider making the switch. It will pay for itself in the long run.
Install/Test Detectors –
Every level should have smoke and carbon monoxide detectors installed, ideally in every walkway leading to sleeping areas, and smoke detectors in every bedroom. If you haven't checked the date on your detectors recently and your house is more than 10 years old, now is the time! The lifespan of a smoke detector is 10 years, and for carbon monoxide detectors, it's 7 years. It's also good to err on the side of caution and change the batteries in both yearly.
Check Your Exterior Seals –
Ensuring all door and window seals are tight is an easy way to ensure you aren't wasting money or energy this Winter. Check your door for good insulation by placing your hand against it from the inside. If it feels cooler than the inside walls, it may be time to install a better-insulated door. You can also put your hand over the seams in the door to feel for any outside air. This could simply mean you need new weatherstripping.
Check Your Foundation -
Outside the house, remove debris and vegetation/weeds from the foundation to avoid moisture buildup. If you spot foundation cracks, ensure those get sealed. Mice can squeeze through cracks and seams as small as a quarter of an inch. While you're out there, seal up or add screens to any possible entry points for small animals and rodents, i.e., exhaust vents.
Winterize Your Taps and Plumbing -
Avoid costly repairs from burst pipes, flooding, and faucet damage by winterizing your outdoor taps before the weather cools. It's also important to winterize your irrigation system if you have one. To winterize external faucets, drain via the bleed valve, and keep it off until Spring. Locate your water main so you know where it is should there be an emergency, and if you have an air conditioning unit, turn it off and cover the external unit for the Winter season. When leaving the house for extended periods (like a vacation), always leave the heat on, but you can set it to a minimum of 16ºC.
Tune Up Your Fireplace -
Before you start using your fireplace regularly, ensure everything is in working order for safety and optimum usage.
Gas fireplaces:
Even though gas fireplaces don't produce ash and smoke like traditional fireplaces, they can still create buildup that needs to be cleaned. It is recommended to have gas fireplaces serviced and cleaned every 2 years.
Wood fireplaces:
It is recommended to have a WETT (Wood Energy Technology Transfer) inspection every 5 years and a chimney sweep every 2 years. If you are storing firewood outdoors, keep it dry and away from the foundation.
Add a Rug to Your Decor -
Adding an area rug to hard surfaces like hardwood and tile floors will insulate your floors and cut down on the noise that echoes throughout your home. It is a great way to cozy up a space without a ton of effort, and often it is a cost-effective solution to keep things warmer in the colder months.
Cover Your Windows -
Although unsightly, clear plastic sheeting on your windows can add an extra layer of protection and insulation to reduce icy drafts with minimal effort and cost. If your home has a basement, consider protecting its window wells by covering them with plastic shields.
Rake Your Yard and Clear Your Gutters -
It is always a good idea to rake the yard before the snow arrives to avoid a yard full of rotted leaves come Springtime. We also recommend clearing your gutters of fallen leaves and debris before the snow hits to prevent ice damming in the Springtime. Doing so every few months will make for a quicker and easier job each time.
Stock Up on the Essentials -
With Calgary chinooks comes plenty of melting and refreezing throughout the Winter months, which can lead to treacherous walkways and driveways. Having salt on hand and all the proper equipment to keep your driveways and walkways clear of snow is good practice for Winter.
Service Weather-Specific Equipment –
It's easy to forget about your Winter equipment during the Summer months because who wants to think about Winter in the Summer?? As soon as you can bring yourself to think about it, servicing and replacing this equipment will prevent you from being caught in a sticky situation. A few action items to consider:
- Service or tune-up snow blowers
- Replace worn rakes and snow shovels
- Clean, dry, and store Summer equipment
- Sharpen ice choppers and buy bags of ice salt and/or sand
Leaving Your Home in Winter –
When an opportunity to take a holiday arises during Winter, take it! But remember to:
- Turn off your home's main water supply
- Have a friend, neighbour, or family member check on your house every 2-3 days or as per your insurance requirements
- Keep your heat set at a minimum of 16º
- Turn your water heater to vacation mode
- Throw out all garbage in your home