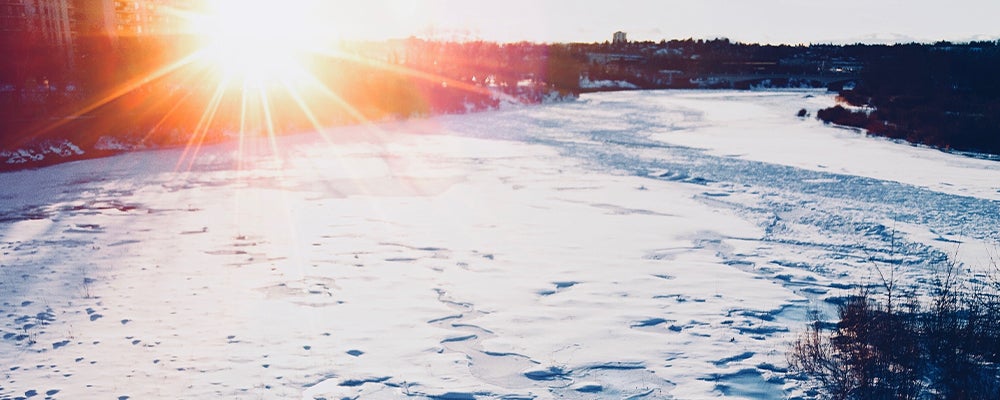 Go ahead, tell us we're playing favourites (guilty), but we think Calgary is pretty unbeatable regardless of the season.
 Now that we're fully into the snowy wintry months, we're ironically feeling all warm and fuzzy about the Winter ahead. Here are the top 10 things we love about our City in the Winter:
Ohh, that sweet Calgary phenomenon that brings us much-needed relief from the chilly grips of Winter. While we wouldn't trade our true North white Christmas or beloved ski season for anything, it warms our hearts to know that a Chinook is always right around the corner.


The Calgary Zoo
transforms into a magical venue with over 1.5 million twinkling lights, live music, and visits from Santa. This festive spectacle has brightened our City for the past 26 years (as of the 2022/23 season), and for many, the holiday season is not complete without a trip to see this dreamy winter display.
For those extended periods without a Chinook, we are thankful for the labyrinth of above-ground walkways that keep us warm during our Downtown commute.


Frozen eyelashes, frosty breath, and unlimited photo ops with dreamy mountain backdrops - it is no secret why people travel thousands of miles to experience this real-life Winter Wonderland nestled in the heart of the Rockies.


Regardless of your skill level, there is no shortage of outdoor adrenaline options. Banff Lake Louise is home to three of the world's finest ski resorts, with something to satisfy everyone.


Skiing, snowboarding, a tube park, bobsledding and a LUGE TRACK - all available here in Calgary!


Endless winter adventures await with hundreds of easily accessible trails less than one hour away. Spend a day in the cool crisp air and take in outstanding mountain vistas - the exercise is just a bonus.


Enjoy a day skating on the frozen emerald lake surrounded by snow-capped mountain peaks and the iconic Fairmont Chateau Lake Louise. When you've had your fill, warm up with hot chocolate or a hot toddy at one of the many restaurants in the charming Fairmont.


Dome beers, Pocket Dogs and our Flames competing for a playoff spot - need we say more??


Outdoor Skating, Community Rinks, and Pond Hockey
Whether you're craving a game of shinny or just a leisurely skate, there is no shortage of ice in Calgary. Nearly every community has an outdoor rink available for the residents, or if you're looking for a more unique experience, check out Prince's Island Park, Olympic Plaza, or even the Olympic Oval!


Also, did we mention: Eggnog lattes, those tasty little oranges, holiday music on the radio, Christmas lights throughout the City, frosty trees, snow days, and UNDERGROUND PARKING AT CHINOOK CENTRE!