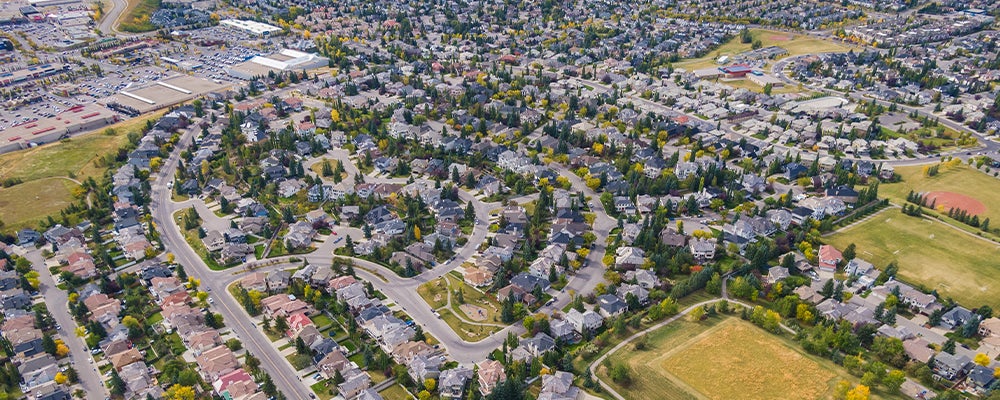 Whether you're new to Calgary or considering moving here in the near future, getting familiar with the districts and neighbourhoods in the area is essential to finding the ideal home in the community that suits your lifestyle.
 To start, we can sum up how the city is laid out with two simple facts:
1. From an addressing perspective, the city is split into quadrants (NW, SW, NE, SE). This is why most residents of Calgary will tell you they live in a quadrant like the Northwest or Southeast. But from a real estate perspective, it's a bit more complicated than that. 
2. From a real estate perspective, the Calgary Real Estate Board (CREB) has categorized the city into 8 districts. The reason for this is so Realtors can provide their clients with meaningful data relating to demographics, trends, and market comparisons for key areas of Calgary.
Each district has unique benefits, so let's take a moment to learn more about each one and what they have to offer! The map of Calgary communities below will also provide a great "bird's eye" visual of how the city is laid out.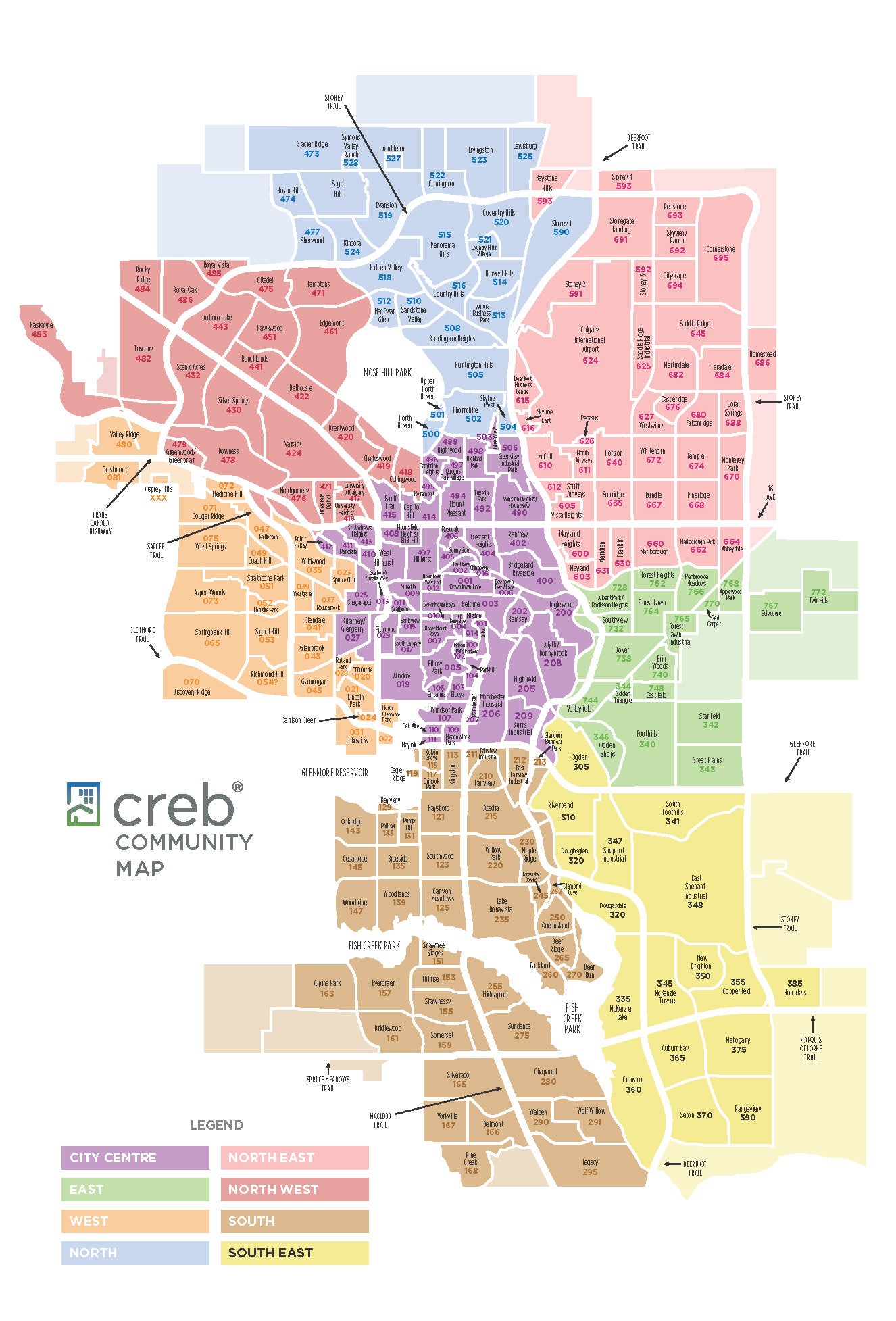 CITY CENTRE (CC)
aka the "Inner City"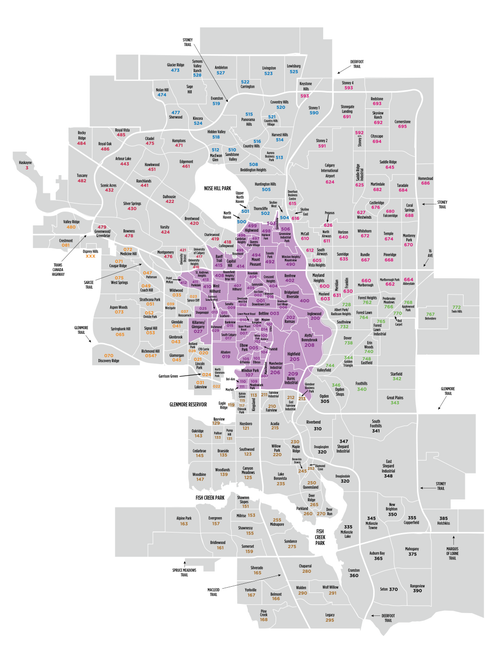 Calgary's city centre district is a vibrant area with endless amenities and comprises roughly 60 communities spanning all four quadrants (NW/NE/SW/SE). This area offers quick and easy access to the Downtown Core while providing a plethora of unique local businesses, entertainment, and a healthy amount of outdoor lifestyle options. It's the most bike and pedestrian-friendly area of the city, and public transportation is also easily accessible and convenient for getting around if you don't have or don't want to drive a vehicle. Housing options are diverse, ranging from single-family estate homes all the way to small apartments. 
NORTH (N)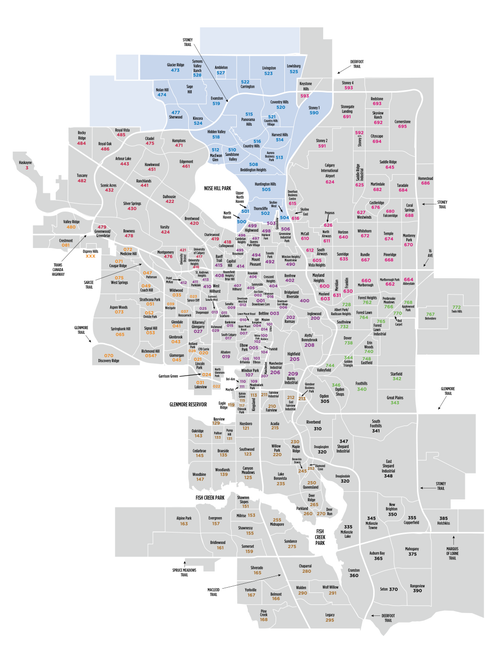 Calgary's North sector is a rapidly growing area with several new suburban communities. The neighbourhoods making up this sector are friendly and inviting and are especially appealing for people looking for easy access to the airport, or outdoor pursuits, including the Rocky Mountains and Nose Hill Park. With a lot of new communities still developing, it's a great time to find a brand new home and maybe even design your own! This area has endless amenities and shopping options, including proximity to Cross Iron Mills, one of the province's biggest and best outlet malls. 
NORTHEAST (NE)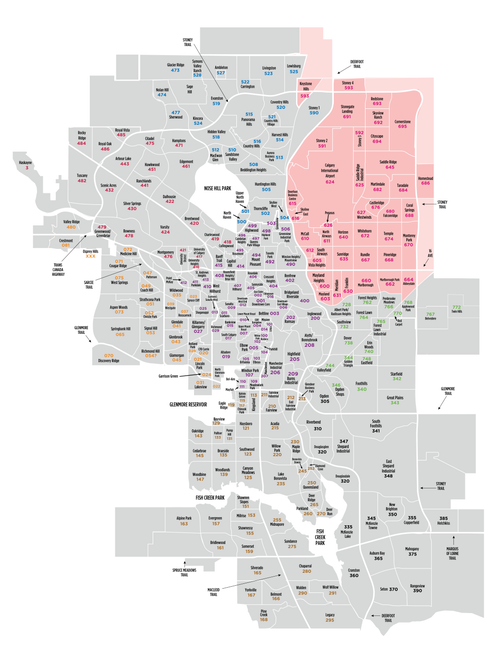 Since the Northeast is one of the more affordable districts, it's no surprise it's a popular landing place for many new residents of Calgary. Home to the Calgary International Airport (YYC), Calgary's Northeast is known for its multiculturalism and convenient access to amenities and transit. It offers easy access to Stoney Trail, Calgary's ring road, providing quick commutes through most of the city. Fantastic community and athletic amenities to check out include The Genesis Centre, Village Square Leisure Centre, and Vivo for Healthier Generations.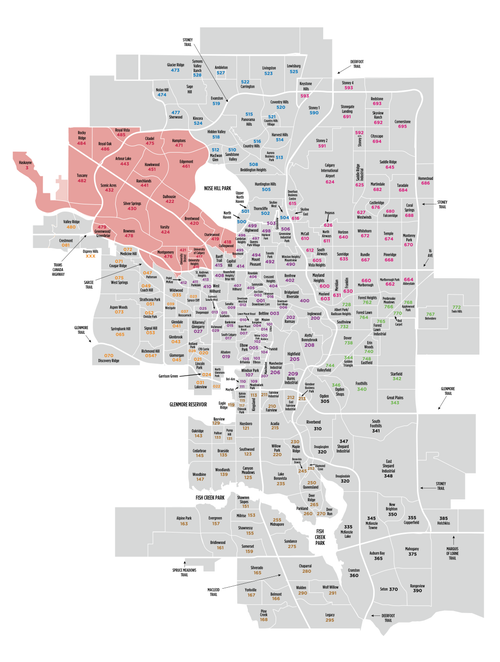 There's so much to love about the Northwest! Calgary's Northwest has long been the first choice for many health professionals, students, and families due to its proximity to the Foothills Hospital and Alberta Children's Hospital, as well as the University of Calgary (U of C). While the Northwest is still seeing lots of growth with new communities being built, most of the communities are mature and developed, with large trees and plenty of character.  The Northwest also encompasses Nose Hill Park, if you're an outdoor enthusiast, and Market Mall, one of the best malls in the city, for all your shopping needs, plus offers a quick exit to the Rocky Mountains.
SOUTH (S)
For those looking for a blend of rapid transit and suburban tranquillity, a neighbourhood in South Calgary is for you! The South sector offers sprawling suburbs to the South and established communities to the North, most of which are easily accessible via the LRT. Fish Creek Park is located in the heart of the South district and is an excellent spot for family picnics/hot dog roasts, bike rides, and more. While often overlooked, the South also has easy and quick access to adventures in the mountains and foothills, including Kananaskis, Bragg Creek, Sheep River Falls, and Elbow Falls, to name a few. And don't forget to check out Southcentre Mall for your retail fix!
SOUTHEAST (SE)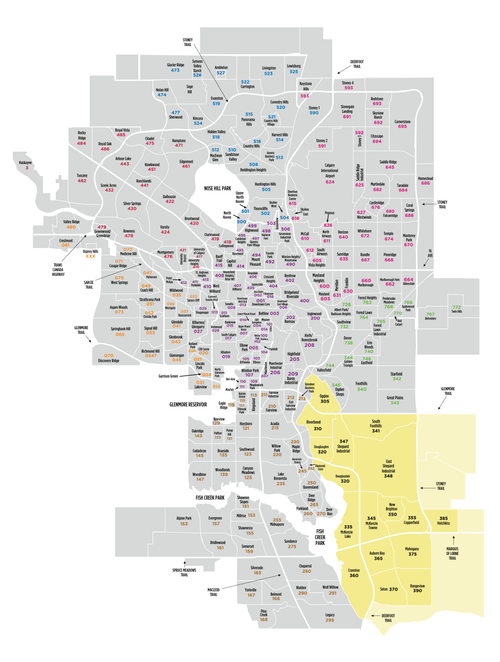 Calgary's Southeast consists of some well-established suburban communities, such as McKenzie Towne, along with several newer and developing communities, such as Seton and the popular lake community, Mahogany. One thing they all have in common is they're family-oriented, amenity-rich, and bike-friendly. They're also close to South Health Campus, the newest hospital in the city, making this area desirable for health professionals of all specialties. With dog parks and community lakes, along with plenty of green spaces and playgrounds, including Fish Creek Park, this is the perfect location for the ultimate suburban lifestyle. 
EAST (E)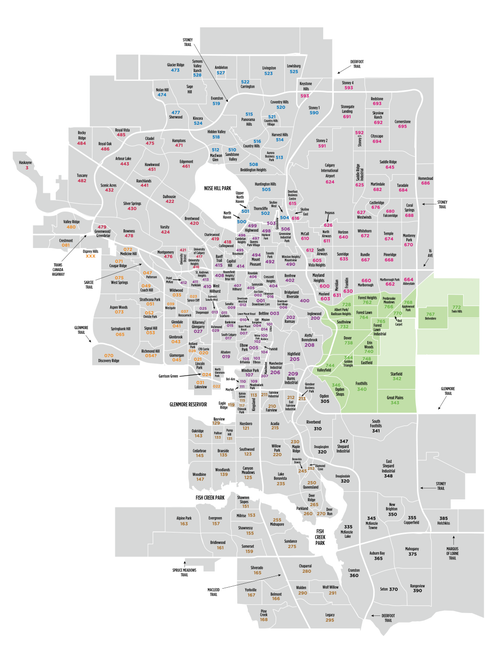 East Calgary enjoys two of the city's main corridors running through it - Deerfoot Trail and Stoney Trail - making this sector an excellent choice for people looking for easy access around the city. It also offers an easy route into Downtown and the inner-city via 17th Avenue and Memorial Drive and is incredibly close to family fun favourites like TELUS Spark Science Centre and The Calgary Zoo. Great affordability and proximity to Calgary's commercial and industrial areas make this sector a great choice for those working in this part of the city. There's even a new East Hills Costco off Stoney Trail and 17th Avenue, along with other popular amenities.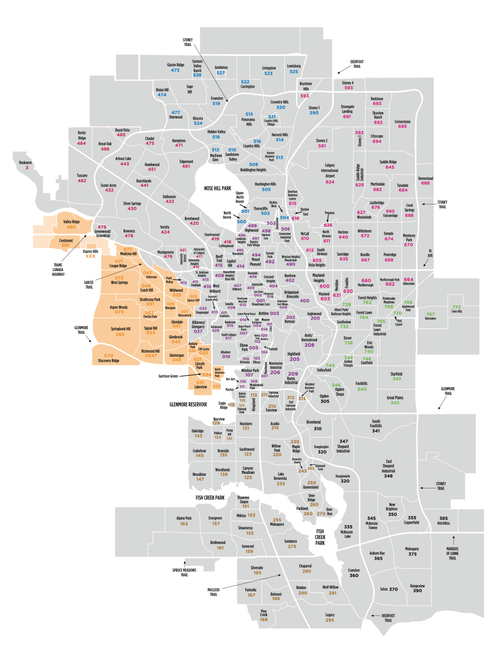 West Calgary real estate ranges from apartments to larger single-family homes, many of which enjoy views of the Rocky Mountains while still being close to lots of amenities. This area is also home to numerous estate communities featuring higher-end single-family homes. Families in this sector enjoy quick access out of town via Glenmore Trail and the Trans Canada Highway without sacrificing an easy commute into the Downtown Core via Bow Trail and 17th Avenue. The new West LRT makes it easy to leave the car at home for a daily commute, and upscale amenities and restaurants abound. It's also a fantastic community if you love spending time outdoors, as nearby options include Edworthy Park and Canada Olympic Park.