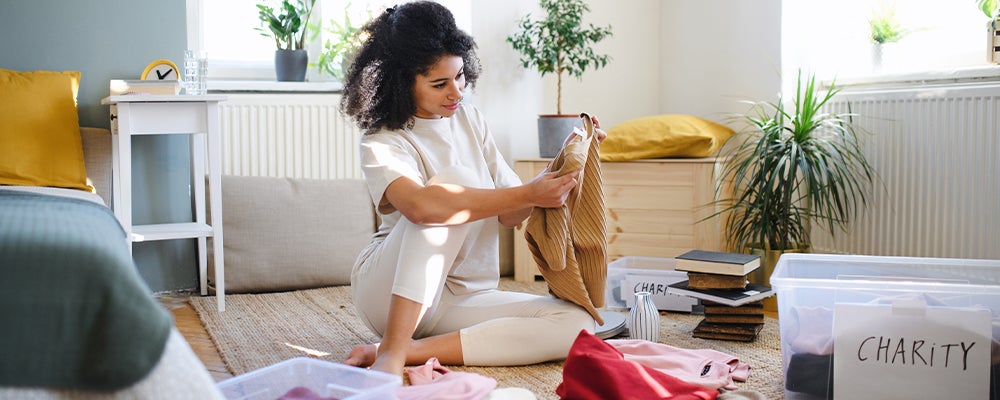 While the excitement surrounding the Marie Kondo Method has died a bit, decluttering never goes out of style.
It just feels. so. good. If you're like us and got super into spring cleaning this year, you probably have A LOT of clothing and household items bagged up and ready to toss/donate. But now there's a decision to be made! Since there are countless charitable organizations across the Calgary area, it can be a difficult decision if you don't already have a charity you're loyal to. 
The following is a list of our 5 favourite organizations you can support with your donations, plus all the information you'll need to get started, including which household items are appropriate and the causes those items will help support. Check out
CREB's Declutter for a Cause blog
for more options!
Description:
Books Between Friends sells used books, with proceeds supporting several local organizations, including B.C. and Alberta Guide Dogs, Bethany Care Society, Calgary Cerebral Palsy Association, and Veterans Food Bank of Calgary.
What you can donate:
Any books in good condition.
How to donate:
Deliver donations to #14, 3434 34th Ave. N.E.
Description:
The Calgary Dream Centre is a faith-based recovery organization that offers specialized programs for both men and women to help them through addiction.
What you can donate:
Clothing, household items, recreation gear/equipment, certain food items, toiletries and more – a full list is available
here
.
How to donate:
Contact the Calgary Dream Centre
.
Description:
The Calgary Drop-In Centre is an emergency shelter that also provides essential care and health services, employment training and housing supports.
What you can donate:
As part of its
Free Goods Program
, the Calgary Drop-In Centre accepts furniture, household items, clothing, and computers/electronics. See their list of needed items
here
.
How to donate:
There are several options for donating - check them out
here
. 
Description:
Habitat for Humanity ReStores are home and building supply stores that accept and resell new and used building materials. Funds generated by ReStores are used to fund Habitat for Humanity Southern Alberta home building projects.
What you can donate:
A variety of appliances, building materials, furniture pieces, tools and household goods – a full list of acceptable items is available
here
.
How to donate:
Drop off your donation at any of the three Calgary ReStore locations or
schedule a curbside pickup
.
Description:
The Mustard Seed assists individuals experiencing poverty and homelessness.
What you can donate:
Men's and women's winter coats and boots, gloves, toques, men's pants, work boots, construction pants, and safety glasses.
How to donate:
Drop off donation items at the Mustard Seed Downtown, the Mustard Seed Shelter or the Mustard Seed Resource Sorting Centre – addresses and hours are available
here
.
So before you jump right to tossing out your declutter items, revisit the pile(s) and second guess if someone in need could use it or if it could go toward an organization that would help those in need. You already did the hard part of decluttering, and now
you feel refreshed
with your clean space - consider paying it forward! It always feels good to give back!