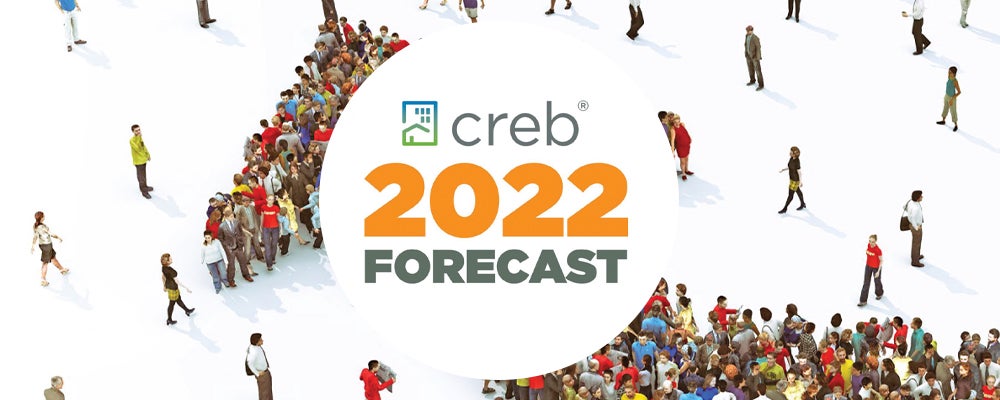 Despite risks surrounding the pandemic, the outlook for our economy is far more promising than it was a few years ago, with renewed optimism coming from the energy sector and growth prospects in the tech industry.
Improving economic activity, job growth and the slow return of migration to the city are expected to continue supporting relatively strong housing activity into 2022.
Thanks to energy prices that were far better than anticipated, there have been some improvements in the energy sector, which are expected to continue into 2022. While West Texas Intermediate (WTI) prices for 2022 are expected to average $71 per barrel, the confidence interval around that forecast is wide weighted on the upper price ranges. Higher prices have improved profitability for many companies that have struggled since 2014 and increased production and drilling are expected this year. While conditions remain far from 2014, this shift is welcome news for Alberta's largest industry. What remains to be seen is whether the improved profitability will translate into a significant increase in investment and jobs.
COVID-19 has impacted many aspects of our economy, causing a shift toward a hybrid work scenario and more e-commerce. While it remains to be seen how many of these shifts will last, 2022 is expected to bring about a full re-opening of the economy. With the end of the pandemic, the economy is expected to grow and see a rebuilding of the sectors most severely impacted by public health measures.
LONG-TERM OPTIMISM
The energy sector remains important to the Calgary economy, both now and into the future. However, announcements from several tech companies planning on setting up offices in the city signal an important shift toward diversification and optimism regarding future growth. It will take time, but the collaborative work between business leaders and policymakers could help support a turnaround in our economy beyond the pandemic.
Ability to attract and retain talent hinges
on employment opportunities and lifestyle. Housing is an important component of lifestyle. While the pandemic did result in a turnaround in our housing market, Calgary remains relatively affordable compared with other large cities in the country. This relative affordability of housing could be a factor in attracting and retaining talent in the city.
POPULATION
Since the second half of 2020, the housing market has thrived, but much of this activity has been driven by the existing population. Since 2015, we have seen more Canadians leave Alberta for other parts of the country. However, prior to COVID-19, international migration helped offset the losses to other provinces. Just as the migration patterns were showing signs of improvement, the pandemic arrived, impacting both interprovincial migration and international migration and contributing to some of the weakest population growth figures seen since the late '80s. As of the third quarter of 2021, Alberta finally started to see a shift in population figures. After five consecutive quarters of losses, net interprovincial migration improved and international migration returned to levels not seen since the fourth quarter of 2019.
With the worst of the pandemic expected to be behind us, forecasts point to a gradual improvement in growth in 2022. The rate of growth is expected to improve in the second half of the year, thanks to gains in both international and interprovincial migration. 
Recent estimates of Calgary census metropolitan area (CMA) indicate that population growth has not been as slow as provincial levels. In fact, growth estimates throughout the pandemic have remained higher than levels recorded during the 2016-2017 period, thanks to smaller outflows of people to other provinces. This is likely one factor that has contributed to Calgary seeing the largest growth in sales relative to most other larger cities in the province. Moving forward, Calgary's population growth is expected to continue to outpace provincial growth rates, supporting housing demand in 2022.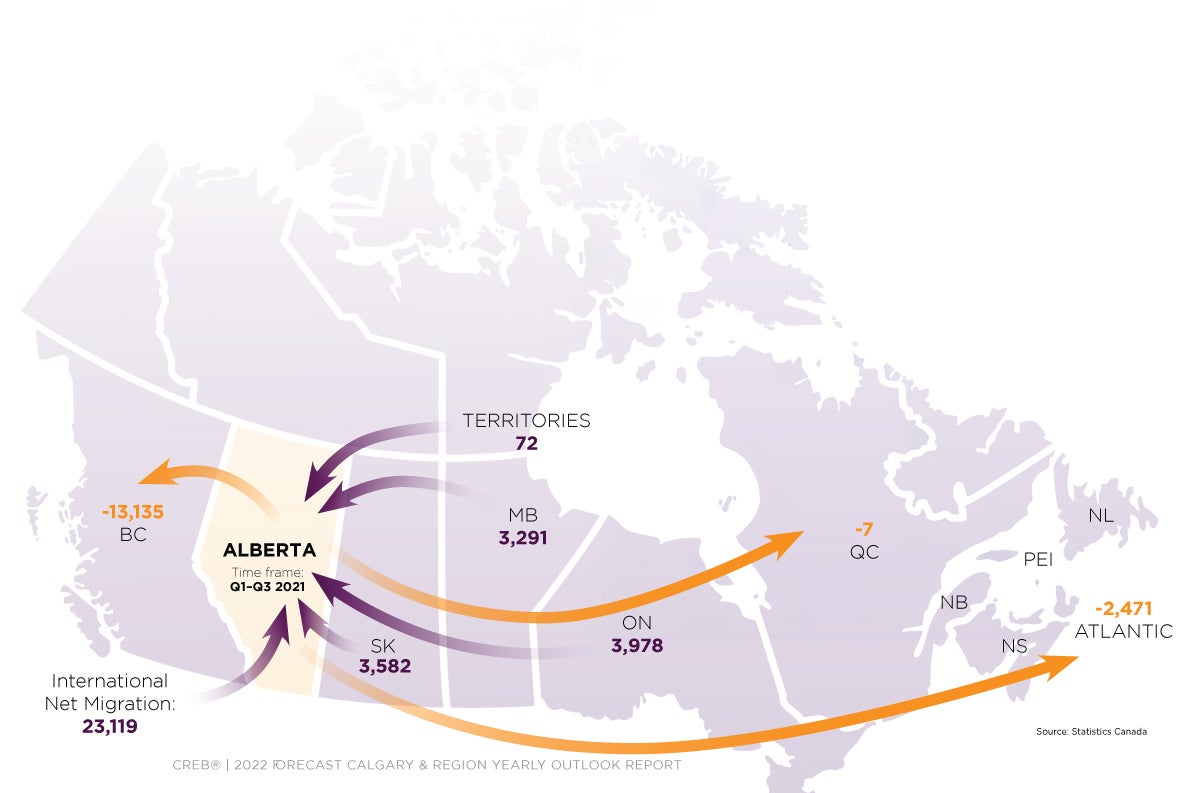 INTEREST RATES & INFLATION
Rising inflation, and the debate about whether it is temporary, are creating some uncertainty in the market. Persistent inflation has implications for lending rates, impacting businesses, consumers and overall economic activity.

Supply constraints, higher energy prices, and rising food and shelter costs are all contributing to inflation. While inflationary pressures were expected to start to ease, they have been more persistent. On this basis, the Bank of Canada has indicated that rates will likely rise in 2022, sooner than original expectations. The central bank still expects the pressure on inflation will persist in early 2022, but it should start to move closer to the two per cent target range by late 2022.
Forecasts vary, but mortgage rates are expected to rise by 50-75 basis points. Rising rates are expected to contribute to slightly slower demand in the housing market in 2022. However, rates are expected to stay exceptionally low and remain stimulative for the housing market.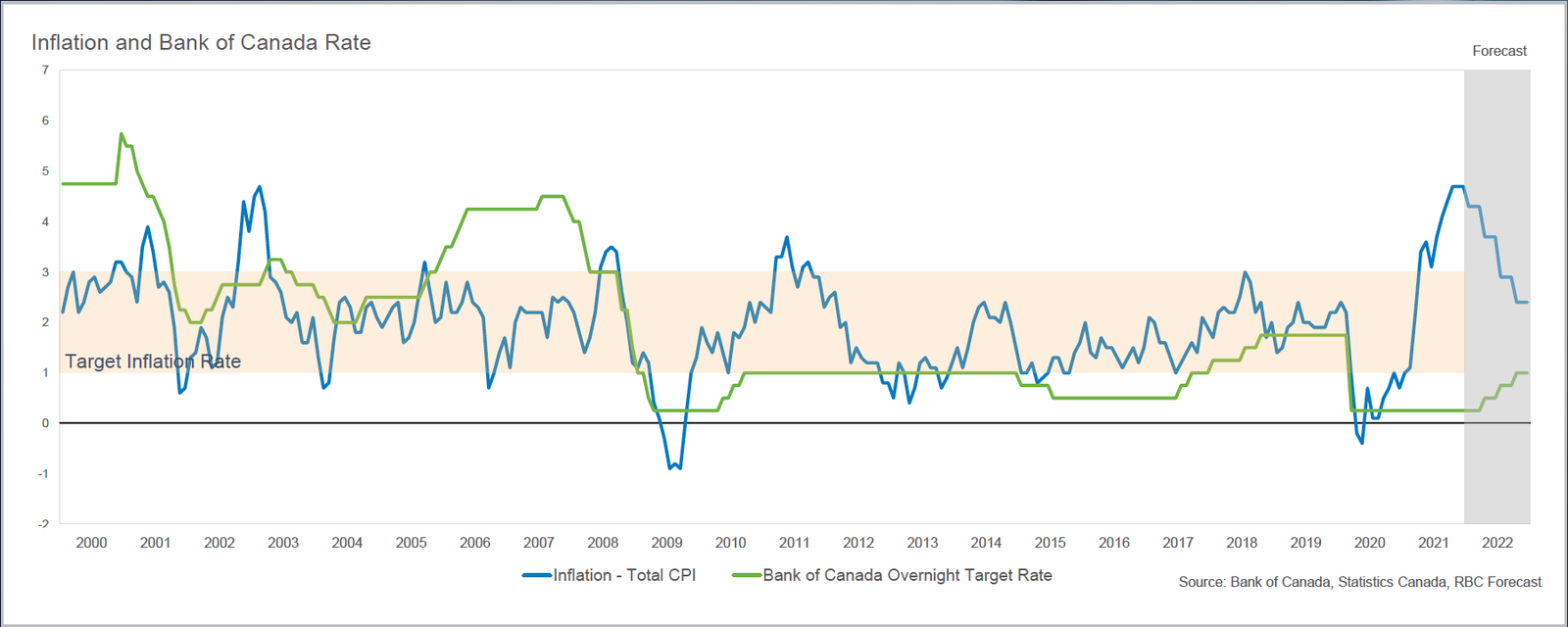 EMPLOYMENT
Following the dramatic decline in jobs in 2020, it is not a surprise that employment levels increased by over four per cent in 2021. Employment gains since September, in particular, were exceptionally strong in Calgary. As of December, employment levels pushed above 833,000, higher than pre-pandemic levels and just shy of peak employment that occurred in June 2019. 

Job growth occurred for both full- and part-time positions across a wide range of industries. As of December 2021, sectors such as construction; wholesale and retail trade; finance, insurance and real estate; and professional and technical services not only recovered from the start of the pandemic but soared to near or above previous highs in the market. These improvements, especially in the professional and technical services sector, will help support further demand growth in the housing market.

Employment gains are expected to continue into 2022, with annual gains forecasted to rise by nearly five per cent. With COVID-19 expected to be mostly behind us, the largest gains in jobs are expected in some of the hardest-hit areas, including accommodation and food; arts, entertainment and recreation; and transportation and warehousing. Further gains are also expected in some of our higher-paying industries, including the primary, utilities and manufacturing sectors. The only sector expected to see additional pullback is educational services.
Unemployment rates are also expected to trend down, but to levels that remain higher than pre-pandemic levels. This is, in part, due to gains in the labour force, as more people re-enter the job market. This could also be related to some of the concerns regarding the mismatch between job seekers and job availability. 

Some sectors have been struggling to find qualified workers despite higher unemployment levels, somewhat evidenced by rising job vacancy rates. The mismatch would likely also create divergent trends in wages, with sectors experiencing high job vacancies seeing steeper wage growth relative to other sectors. To date, wages have been generally trending up, but not necessarily at the same pace as inflation, impacting growth in disposable income in 2021. As we move into 2022, wages are expected to rise, supporting gains in household income. 

HOUSING IN 2022
Rising lending rates and higher home prices are expected to slow demand growth in 2022, bringing sales down from 2021's record levels. However, overall, levels are expected to remain much higher than long-term trends, reflecting a strong demand environment. As we move through the economic recovery and job prospects improve, demand for resale housing will remain relatively strong.


The challenge in 2022 is expected to be related to supply. Starts activity did improve last year, which should help
with overall housing supply in 2022, but resale supply may struggle to remain at adequate levels to support balanced conditions throughout the earlier part of the year.


Higher prices should prevent a significant slide in new listings growth this spring, ensuring conditions are not as tight as in 2021. However, the return of more balanced conditions is not expected until the latter part of 2022. The slow return to balanced conditions is expected to continue to support price gains this year, albeit at a slower pace than in 2021. Overall, citywide annual prices are forecasted to increase by over four per cent.