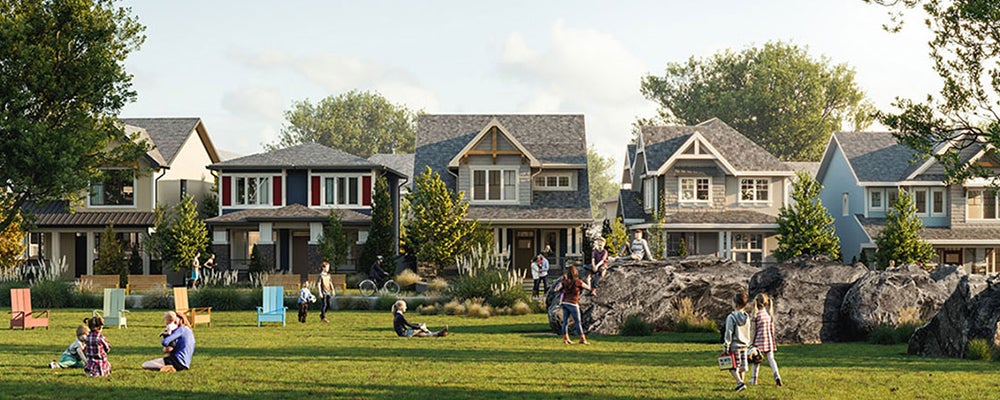 Calgary is constantly growing – both upwards and outwards – so it's no surprise there are several new communities in the works across the city as we enter the new year. 
Here are seven new community projects to watch in 2022:
1) Alpine Park
Quadrant:
SW
Developer:
Dream Unlimited
Description:
"Inspired by the natural and architectural history of Calgary with mountain, urban, and prairie influences converging, Alpine Park's new urbanist design was built around a dynamic mix of housing choices that put people first, strengthening social fabric and encouraging neighbourliness."
2) Ambleton
Quadrant:
NW
Developer:
Qualico Communities
Description:
"Nestled in the heart of northwest Calgary and within walking distance to the already established community of Evanston, this brand-new community will have everything you could ever imagine. All the important amenities like schools, daycares, medical services, parks, pathways, and retail are all five minutes away…"
3) Belvedere
Quadrant:
SE
Developer:
Tristar Communities Inc.
Description:
"In a premium location adjacent to the East Hill Shopping Centre and only 15 minutes from downtown, Belvedere is destined to become one of Calgary's most sought after communities. Imagine a neighbourhood where ease of access to employment, entertainment, green space, retail, dining and recreation is right outside your front door."
4) Glacier Ridge
Quadrant:
NW
Developer:
Anthem United
Description:
"Glacier Ridge expresses a vision that captures the experience of life on the boundary. It seamlessly blends Calgary's urban frontier, and Alberta's vast ancient glacial landscapes and rugged wilderness. The character of this nostalgic community is distinguished by an interplay between richly landscaped public spaces and architecture inspired by the region's sweeping vistas and pioneering history."
5) Homestead
Quadrant:
NE
Developer:
Partners Development Group
Description:
"Plant your roots in Homestead, a place that residents can feel proud to call home and will for many years to come. Diversity is celebrated and embraced, where neighbours feel connected to each other and the community. Discover Calgary's new northeast, with easy access to major roadways like Stoney Trail and Metis Trail."
6) Rangeview
Quadrant:
SE
Developer:
Section 23 Developments
Description:
"Inspired by the Ollerenshaw family legacy and respect for Alberta's agricultural roots, Rangeview will be a vibrant gathering place for neighbours to connect, surrounded by amenity-rich residential living, community gardens, garden-to-table food celebration and more. Around here there's plenty of room to grow, countless spaces to meet new friends, and all the amenities, events and conveniences that make a happy life."
7) Rockland Park
Quadrant:
NW
Developer:
Brookfield Residential
Description:
"As northwest Calgary's first master-planned community in over a decade, Rockland Park has an exciting story to tell – one that celebrates connections to the land, to nature, to history, to family and to four seasons of recreation in a breathtaking setting. Rockland Park will be a place to connect with nature and each other."