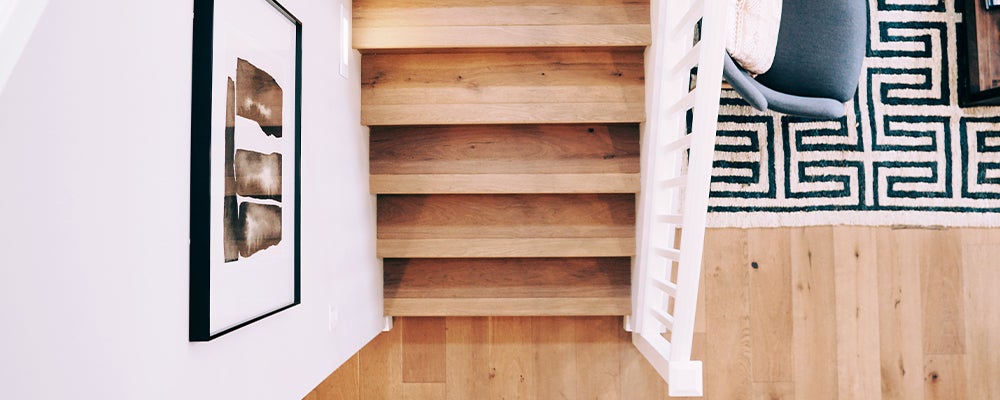 You know that pesky triangle wall space underneath the staircase(s) in your home? There's a design solution for that!
 Every home could use some creative solutions for storage, design, and décor, and NOW is the perfect time to get inspired. This list might just have the inspo you're needing to get started, so let's take a look!
Here are our top 10 creative ideas for under the stairs:
Wine Room
Let's face it. Most of us aren't wine connoisseurs, but that doesn't mean we don't want to LOOK like one. Designing a wine room to retrofit under the stairs is a classy move sure to impress even your most bougie guests. It can double as a visual feature as well as a practical storage area. Does anyone fancy a barrel-fermented full-bodied Bordeaux? (Is this a thing?)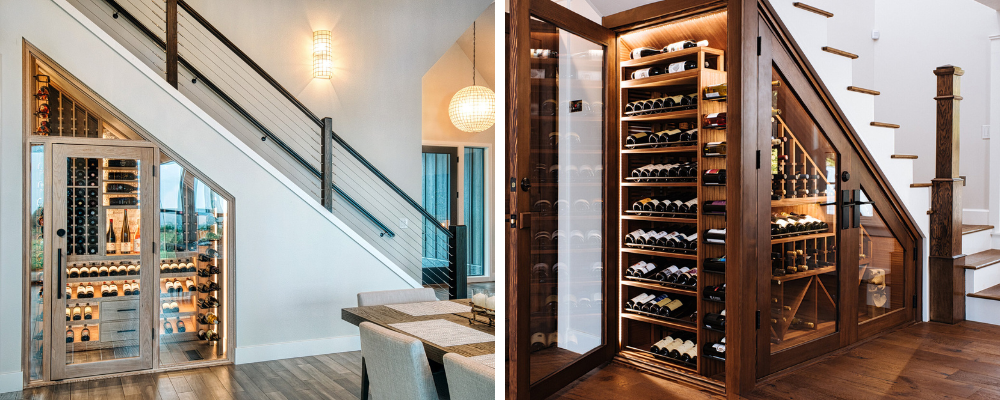 Photos by 
Sommi Wine Cellars
Dry Bar
Want beverage storage with more functionality? A dry bar is a great way to go! All you need is a countertop, some cabinets or cubbies, and a mini-fridge – you get extra credit for this project if you hook up plumbing for a sink and install lighting. Congratulations! Every hour is happy hour!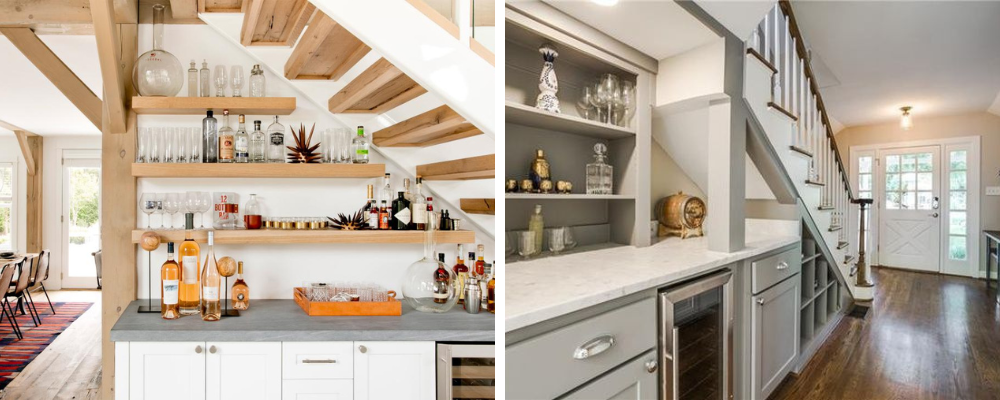 Photo (left) by Rikki Snyder
If you have a hefty collection of books from over the years, this idea is going to be your best friend. Simply install a few shelves or cabinets, fill them with your favourite novels and self-help books, and voila! A home library is born. Make it extra functional by adding a cozy chair or two nearby.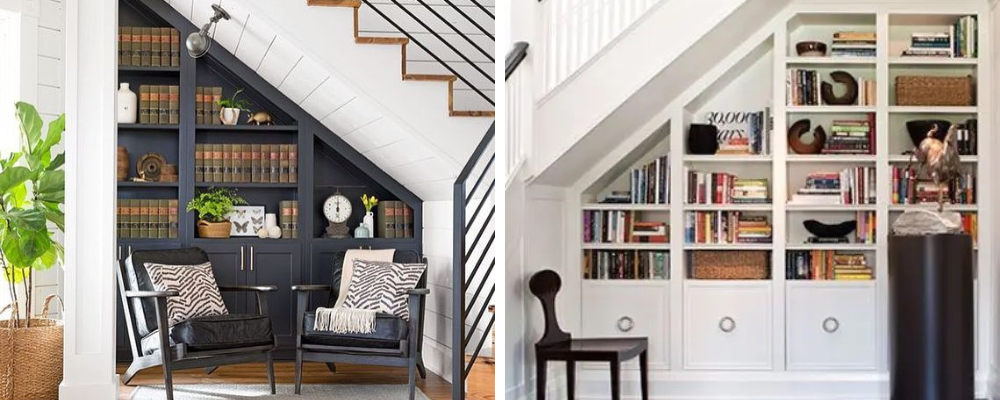 Kids Hideaway
Tiny spaces are perfect for tiny people. The kids will be delighted when they find out they get a room just their size. There are so many adventurous and fun directions to run in with this one, so sit down with the kids and let imaginations run wild! A few ideas to get you started include: adding a small door leading to their hideaway, beanbag chairs, reading lamps, bookshelves, etc.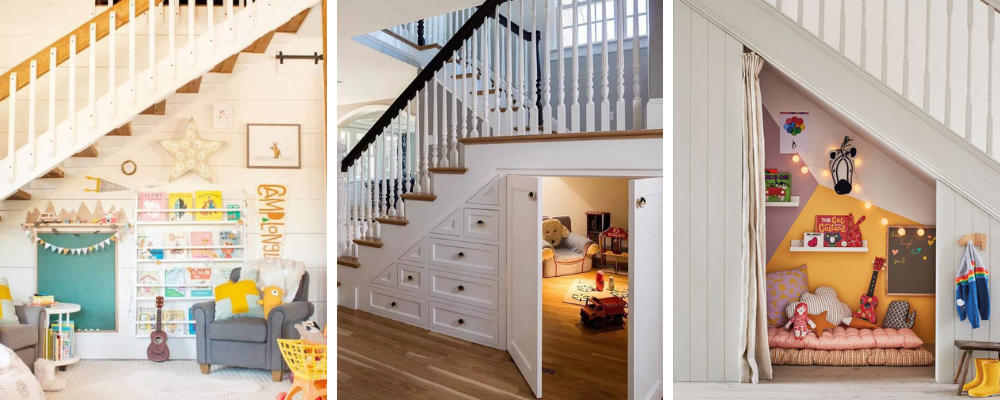 We all know the pets are indeed the ones who run the house, so they obviously need a lounge to retreat to when their canine/feline duties get overwhelming. Under the stairs is an idyllic spot! All you need to finish it off is a pet bed, some cozy blankets, and their favourite toy. This is also a great spot to add a gate if your pet is crate trained!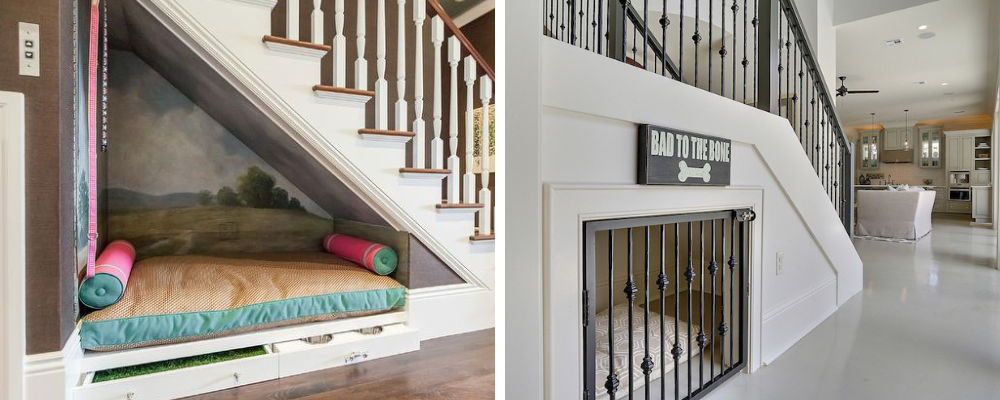 Pull-Out Storage
Function over whimsy, pull-out storage is one of the more practical solutions for utilizing under-stair space. It can vary from regular drawers for linens to full-size cabinets for shoes and jackets – it depends on your space. Either way, it's a great storage solution when you need it!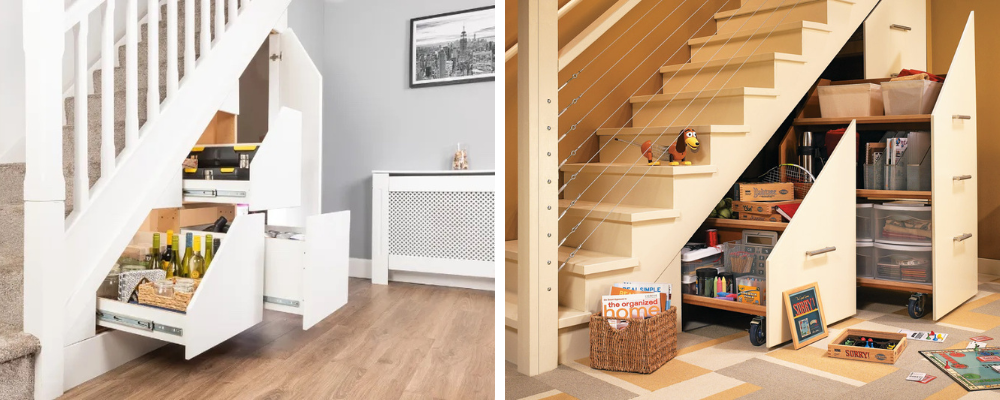 Built-In Desk
Whether you live with teenagers who need a study space or you need a designated place to sort receipts and paperwork, a built-in desk under the stairs is the answer. It can be as simple as you want it to be, so it's possibly one of the more affordable ideas! It's perfect for the basement if you don't want it visible on the main floor.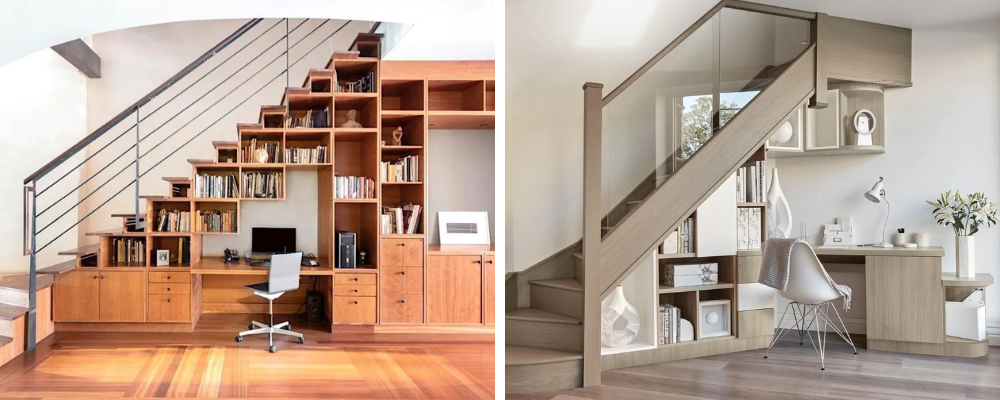 Photos by (left) 
Spivak Architects & (right) by Neville Johnson
Reading Nook
You are a bookworm, and you have nowhere to escape. What do you do? Design a reading nook to fit under the stairs, of course! Make sure you add lots of comfy cushions and good lighting, and it will quickly become your favourite home within your home. This is also a great location for an entryway bench if your "triangle" is near the front door!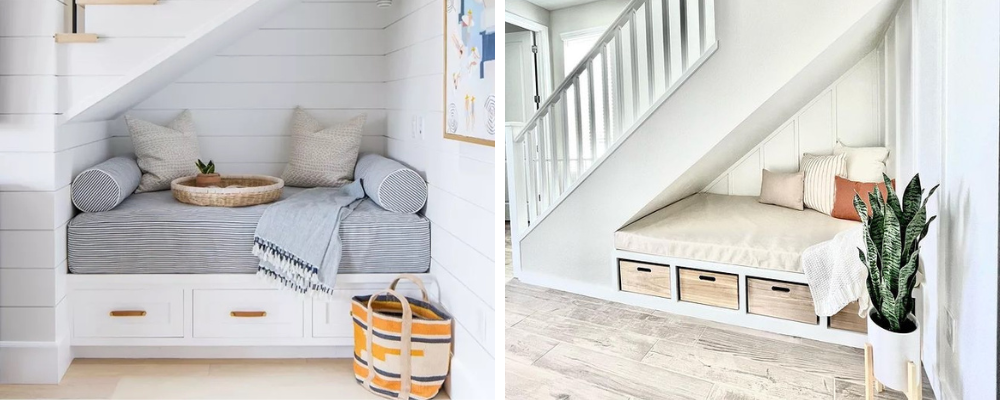 Art Gallery
Channel your inner curator and create an art gallery displaying your favourite pieces and décor. This is a modern twist on the traditional china cabinet you might find at your favourite grandma's house filled with fine dinnerware and glass trinkets. Fill it with your favourite items and make it unique to you!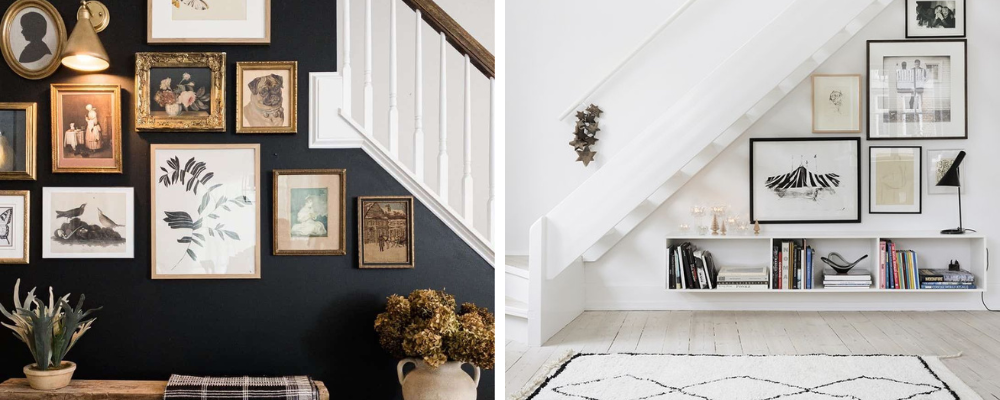 Pantry
Home chefs rejoice! Sometimes your home doesn't offer space for a pantry in the kitchen, or maybe sometimes, one pantry isn't enough. This often-neglected space under the stairs provides an opportunity for extra food storage, and if it benefits your lifestyle, we say "go for it"! This pantry idea could change your world for the better.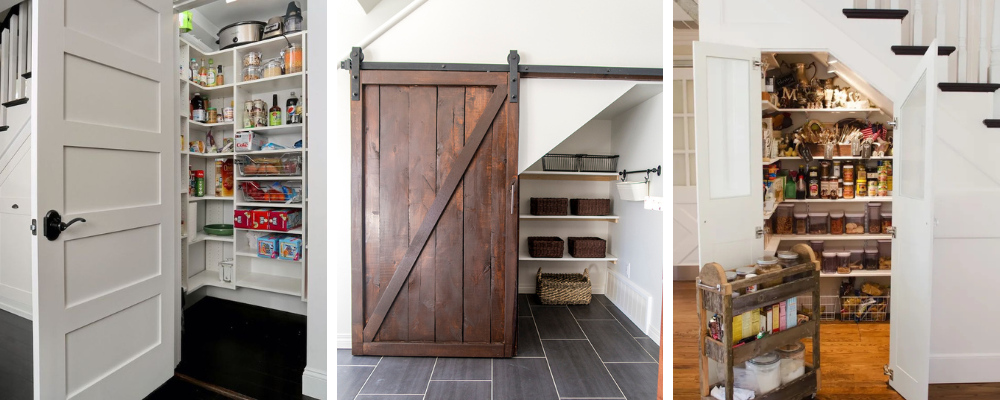 Photos (left) by New England Design & Construction, (centre) by 
The DIY Mommy
, &  
(right) by Gina Bianciello for 
The Kitchn
We hope you enjoyed these 10 creative under-stair ideas! Let us know if you take any of these ideas and run with it by tagging us on Instagram
@urbanupgrade
.