NHBR (NEIGHBOUR) - 
Okay, so maybe we are slightly biased because NHBR by Our Daily Brett is our actual neighbour... but this cozy little shop in Altadore is number one in our hearts and on the charts. Besides serving up delicious Anchored coffee, they also have a pretty substantial made-to-order menu with tons of delicious toasts, bowls and sandwiches. They also have a hearty selection of baked goods - most of which are gluten-free and all of which pass the taste test (trust us, we have done the homework). The majority of the seating is outdoors, which is even more incentive to get there soon and enjoy the heated patio before it's too chilly. Even so, the breakfast sandwich and the vegan chocolate chip cookies are worth braving the cold for during the Winter. Grab both to go and stay warm with a delicious coffee or a specialty drink like a turmeric latte - because turmeric lattes are the new pumpkin spice lattes, anyway. We ❤️ our neighbours!
Must try:
Breakfast Sandwich (with Prosciutto), Vegan Choc Chip Cookie, Turmeric Latte
Where:
4038 16 Street SW - Altadore
Hours:
Weekdays: 7am-5pm | Weekends: 8am-5pm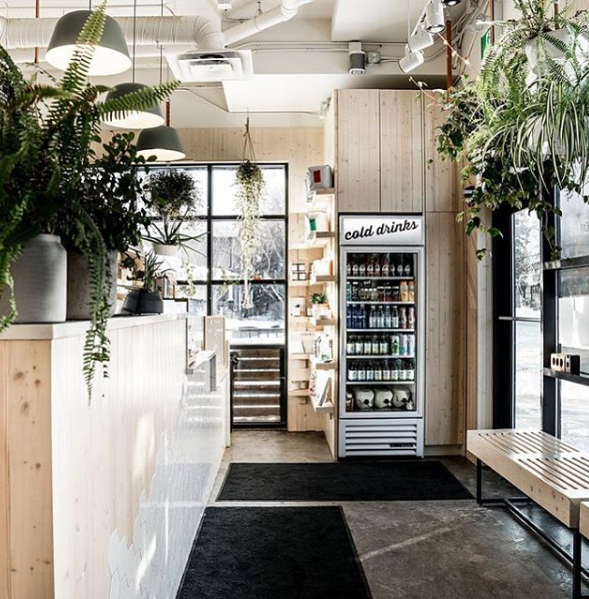 Photo: Instagram: @nhbrcoffee
MONOGRAM
This local company has not only expanded their original pint-size cafe in Altadore, but it has also added two additional locations so that you can grab a delicious cup of joe from three accessible spots in Calgary. On top of serving award-winning coffee and specialty drinks, all three Monogram locations look like they belong in the pages of a magazine and make great work/study/meeting spaces. Whether you are heading for a lunchtime meeting or just looking for a spot to read your favourite book, pop in for a yummy drink (can you say condensed milk latte?) and a specialty toast, we bet you will stay awhile.
Must try:
Ricotta and Jam Toast + Matcha Latte
Where:
Britannia | 800 49 Avenue SW
Fifth Avenue Place | 420 2 Street SW
Altadore | 4814 16 Street SW

Hours:
Britannia: Weekdays: 6am-9pm | Sat: 7am-9pm | Sun: 7am-6pm
Downtown: Weekdays: 6am-5pm | Weekends: 9am-5pm
Altadore: Weekdays: 6:30am-9pm | Sat: 7:30am-9pm | Sun: 7:30am-6pm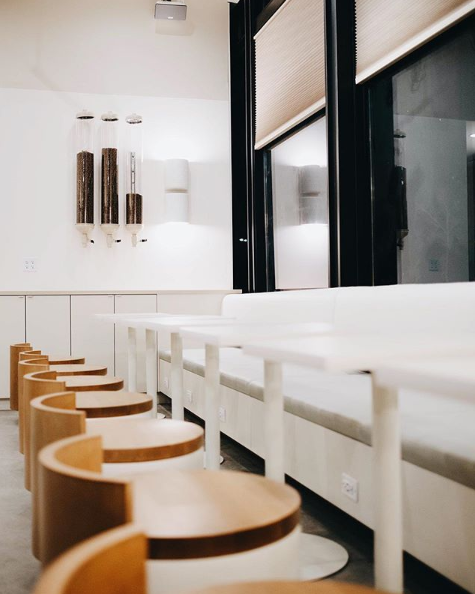 Photo: Instagram: @monogramco
ROSSO
Is it just us, or did all of these come out of nowhere? By all of these, we mean SEVEN new(ish) cafes scattered throughout Calgary's coolest neighbourhoods. Not that we are complaining - each of these cafes is unique and stunning spaces centred around the community. We would be more than happy to meet a client/read a book/design our condos around these spaces. Like we said before, with seven of these bad boys around town (Ramsay, Stephen Ave, Victoria Park, Inglewood, Tuxedo, Beltine and East Village), you are never far from a coffee fix. The cute cafes are just a bonus to their coffee being completely "green," meaning it's sourced ethically from producers who care about the planet. So, you can feel good about the latte you're drinking. You deserve a cookie for that.
Must try:
Peanut Butter Coconut Energy Ball + Cappuccino
Where:
Ramsay | 803 24 Avenue SE
Stephen Ave | 104 8 Avenue SE
Victoria Park | 425 11 Avenue SE
Inglewood | 1402 9 Avenue SE
East Village | 850 4 Street SE
Beltline | 103 17 Avenue SE
Tuxedo | 2101 Centre Street N
Hours:
Ramsay: Mon-Sat: 7am-8am | Sun: 8am-8pm
Stephen Ave: Weekdays: 7am-5pm | Weekends: 9am-5pm
Victoria Park: Weekdays: 6:30am-5pm | Sat: 8am-5pm | Sun: 9am-4pm
Inglewood: Mon-Sat: 7am-10pm | Sun: 8am-8pm
East Village: Weekdays: 7am-5pm | Weekends: 8am-5pm
Beltline: Mon-Sat: 7am-8pm | Sun: 8am-5pm
Tuxedo: Mon-Sat: 7am-8pm | Sun: 8am-5pm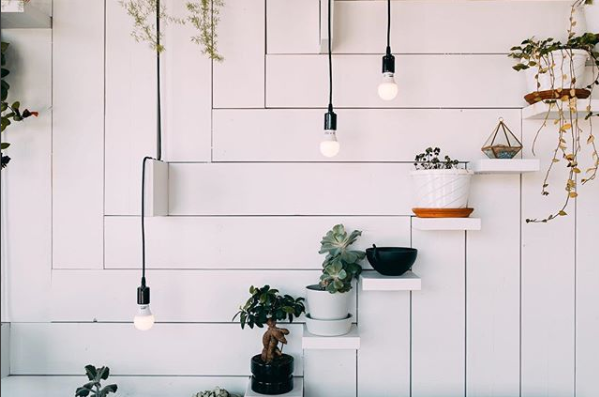 Photo: Instagram: @rossocoffeeroasters
DISTILLED COFFEE BAR
This little gem is tucked away in Marda Loop and affectionately brands itself as a beauty bar and social house. Home to one of Calgary's cutest beauty boutiques, this small but mighty shop is the ultimate social spot to grab a coffee and treat yourself. As if delicious coffee isn't enough, they are licensed, so you can also sip on your favourite wine or craft beer while you get pampered. Talk about the perfect spot for a girl's night out (or a boy's night out - they don't call it a "manny" for nothing!). While it might seem like a weird pairing, we are actually wondering why there aren't more places like this?
Must try:
Honey Latte
Where:
2408 34 Avenue SW | Marda Loop
Hours:
Vary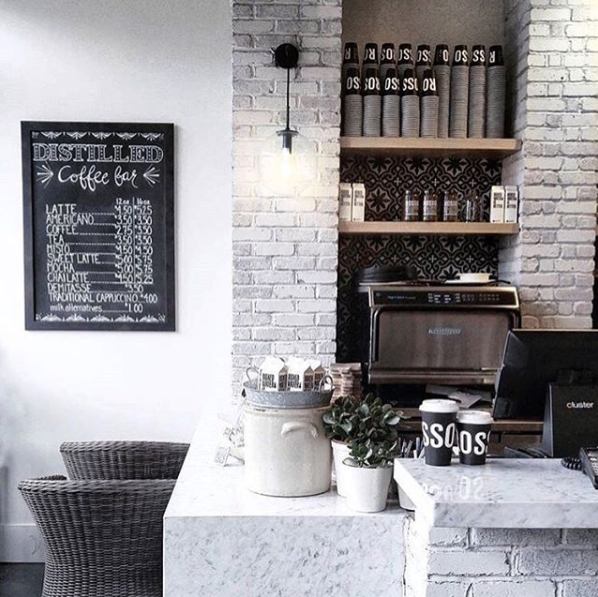 Photo: Instagram: @distilled_beautrybaryyc
VENDOME CAFE
This one is an oldie but a goodie and seriously underrated. Nestled in the heart of Sunnyside, this charming cafe is "a touch of Europe in the heart of Sunnyside"… as if that sentiment isn't enough to make you feel warm and fuzzy inside, the coffee is delish and the freshly prepared soups, sandwiches and pastries are equally as mouth-watering. This cozy coffee spot proudly sources ingredients from local farmers and artisans and supports the community in other ways, like live music nights. Cozy up seven days a week for a binge-worthy breakfast, lunch or dinner and pair it with a cup of organic fair-trade coffee (or even a glass of wine). This little gem is the perfect Sunday staycation.
Must try:
Brunch (Blanket statement because it's all good) + London Fog
Where:
940 2 Avenue NW
Hours:
Mon-Fri: 7am-8pm | Weekends + Holidays: 8am-5pm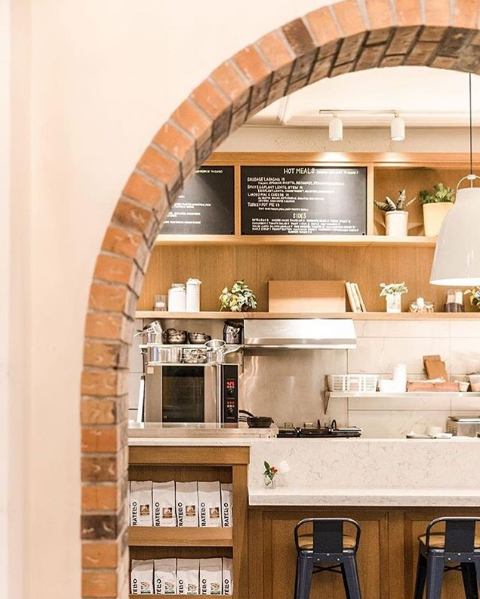 Photo: Instagram: @vendomeYYC