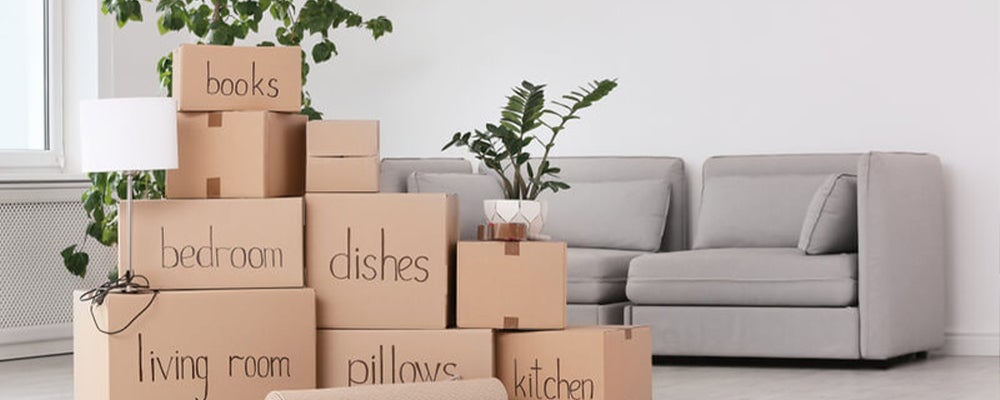 With what seems like endless "to-do" lists, packing, cleaning
and of course coercing friends into helping, moving can be a real headache and a major stressor - but it doesn't have to be that way!
Moving is a part of life, and whether this is your first move or you're a moving veteran, there are great tips, tricks, and reminders at your disposal - so why not use them?! By using the checklist below you can help make the big day go as smoothly as possible.
PROACTIVE SCHEDULING
This may seem like a no-brainer, but with so much going on it can be easy to forget not only the little things but the big ones too. You will need time to focus fully on the task(s) at hand, so plan ahead and book a day or two off for the big move. 
Book a Meeting with Your Lawyers
You will likely have to meet with your lawyer 2-5 days before the new owners take possession to wrap up loose ends, review relevant information, and make sure everything is in order for the move.
Book a U-Haul or Moving Company
If you are booking a U-Haul or moving company, make sure to do so ahead of time instead of waiting until the last minute. Moving vans and companies tend to book up quickly near the middle and end of the month as it is the most common time for moves.
Give Your Friends a Heads-Up
Be sure to give anybody that is coming to help you enough prior notice so that they can plan around the date and ensure that they'll be free to lend a hand.
PACKING UP:
Sell or Donate Items You No Longer Need
Consider selling or donating items that no longer "spark joy" or that you don't plan on keeping after the move. Doing a big purge ahead of time will free up valuable time on moving day and will also save you the hassle of dragging unneeded items to your next home. There are many businesses and donation centers throughout the city that will gladly take used items (in good condition) to help out Calgarians in need.
If you are hiring professional movers and are concerned about certain valuables during your move, be sure to seek out proper insurance for those items. This will not only provide peace of mind but in the worst-case scenario that something does turn up damaged or even worse, missing, having insurance will save you an additional source of stress in the future.
There is a myriad of different tips that one can utilize to make the packing process as efficient as possible. A few of our favourites include:
-Use blankets, towels and old clothing as wrapping for fragile items
-Consider purchasing some reusable plastic bins which are handy for transporting small items and are great for long term storage
-Pick-up cardboard boxes from local grocery stores, department stores and/or U-haul outlets. Many locations are more than willing to pass off their unneeded boxes to you if you simply ask. You can also check sites such as Facebook Marketplace and Kijiji for listings giving moving supplies away for free 
-Don't forget to label your boxes! This step will make unpacking and sorting much easier overall in the long run
-Consider paring down your grocery shopping for a few weeks leading up to the big day so that your cupboards and refrigerator have fewer items to move. Remember to keep any coolers you have to transport refrigerated items on moving day
Lastly, give yourself plenty of time! Many people are shocked at how long it actually takes to pack things properly. Start early and have as many things as possible ready to go beforehand so that you not scrambling on moving day.
UPDATE RELEVANT INFORMATION
Contact Companies to Update Your Address:
One of the more tedious aspects of moving is going through and adjusting everything to reflect your new address. Make sure to notify utility companies of your moving date - this includes Enmax, Direct Energy, Telus, Shaw, Atco etc. Also be sure to contact your insurance company of the move date, since many policies are annual pre-paid policies, you may have a credit available for the balance of your insurance term.
You will also need to notify banks, cell phone companies, schools, investment brokerages, and anything that immediately affects the finances of your address change. Canada Post allows you to forward your mail to a different address. This can be very useful for mail items that don't come regularly.
Taxes are usually paid/reimbursed/cancelled at the lawyer's office upon closing on your home. Be sure to verify with your lawyer that this will be looked after on your behalf. Additionally, notify your neighbourhood association of your move if you have one. They (typically) withdraw funds annually and need to be notified that you're no longer at the address.
CLEANING FOR POSSESSION DAY
When it comes to cleaning, the best policy is to leave your home at a standard that you would like to receive it if you were moving in. If you aren't leaving it up to professionals, refer to this quick list to make sure you are covering the cleaning basics and avoid any issues on possession day:
Vacuum carpets and thoroughly clean floors
Dust the baseboards, blinds, shelves, and any other nooks and crannies
Wipe down/sanitize bathrooms from top to bottom (toilets, sinks, mirrors, shower doors and tubs) it is also best practice to make sure your drains are running smoothly and free of hair and clogs
Clear out the fridge and freezer and clean up any spills
Clean the oven using the proper cleaning settings and wipe out the leftover debris
Wipe down the microwave
Place all instruction manuals along with extra keys and garage door openers in a kitchen drawer
Turn off lights and lock doors behind you
Note: This is a basic list and we encourage people to take the time to do the job right!