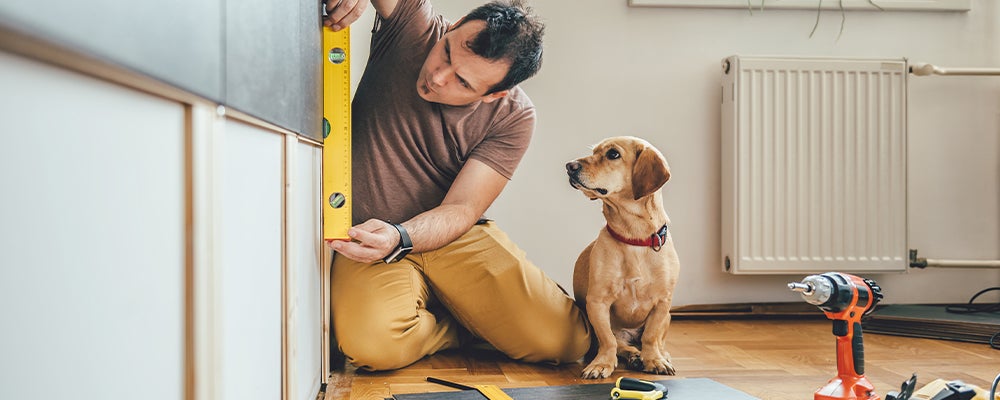 In recent months, social distancing and calls to stay home have led to a huge surge in DIY projects around the house.
After all, when you are spending most of your time at home, you start to notice things that could use a little sprucing up! We are huge supporters of DIY projects that will add value to your home, especially if you are considering selling in the near future. Below are a few of our "Do's and Don't" when it comes to doing it yourself.
DO:
Update light fixtures
DON'T:
Mess with electrical if you aren't a pro
Swapping out light fixtures can be a surprisingly easy way to freshen up a space without spending a fortune. Most often, changing a light fixture is a simple project that nearly anyone with a ladder and a few basic tools can do. With that said, unless you are a licensed electrician, a qualified apprentice, or extremely confident in your skillset, dealing with your own electrical work simply isn't worth the risk. Not only is there a physical risk to the "handyman" while he or she is doing the work, but faulty electrical in a home can pose danger for years to come. While you can find plenty of DIY tutorials for how to install a dimmer switch on YouTube, a general rule of thumb for untrained homeowners is to just steer clear of electric work altogether, and leave it to the pros. 
DO:
Update cabinet hardware
DON'T:
Paint or refinish your own cabinets
If you intend to sell your home, the kitchen is a major selling point, so a refresh can make a huge difference to both time on the market as well as the sales price. Sometimes, a job as simple as swapping outdated hardware with something new can make a huge difference. With that said, when it comes to larger projects like painting cabinetry if it is a botched job (ie. you did it yourself when you didn't know how) you are going to take a HUGE hit when it comes time to sell. While painting out your oak cabinets might sound like an easy weekend job, unfortunately, it can turn bad, fast. If you are desperate to change your cabinets or think the sale of your home depends on it, you may be better off offering your buyer an upgrade allowance or hiring a professional to do the job right from the get-go. Cabinet refinishing is a growing industry, and many are surprised by how affordable it actually is to hire a professional!
DO:
Make functional updates that are on trend
DON'T:
Focus too much on being TRENDY or UNIQUE
Home trends are ever-changing and it is nearly impossible to find a style that won't date with time, but there are a few ways to ensure that your DIY project ages gracefully. If you are planning a paint refresh, light, neutral colours tend to stand the test of time versus bold colours or unique wallpaper that caters to your personal taste and style. In fact, it is pretty rare for a buyer to appreciate designer wallpaper dollar for dollar with what you could spend. Now, if you are updating for your own enjoyment and are less concerned with resale - then design and decorate how you like and don't worry about catering to the masses.
DO:
Generally refresh your home with a fresh coat of paint
DON'T:
Jump in without doing the proper prep work
Nothing says "amateur" quite like unwanted paint marks on trim, ceilings, and electrical outlet covers. If you are planning to do some painting, make sure you invest in some painter's tape and properly prepare your surfaces - fill, smooth and sand where required. With painting, preparation is key for a professional look. Oh - and make sure you pick the right paint for the job, glossy or semi-gloss paint can be a nightmare on blemished surfaces. 
DO:
Invest in strategic areas
DON'T:
Spend an arm or a leg in areas that won't give you a good ROI
Renovations are a huge commitment to begin with, don't waste your time or money on a renovation that won't be worth it in the end! If you want the most bang for your buck on your resale renovation, make sure that you are spending your hard-earned money in the right places. 

DO:
Make the deck and yard look presentable
DON'T:
Overspend on landscaping
Curb appeal and general yard upkeep can play a huge role in making your home appear desirable, but extensive landscaping can cost a fortune with very few buyers willing to pay full value on resale. If you know that you don't have a green thumb, or won't have time to maintain multiple gardens, opt for something that looks great and offers minimal upkeep. The best exterior DIY jobs are those that provide the best return with the least amount of capital required - think sanding and repainting/staining your deck and fence, pruning overgrown trees and hedges, weeding flowerbeds and lawns, and edging around walkways and beds.